Customized Group Transfer Tour from Syracuse to Palermo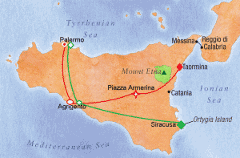 .
Product Code: PMOAGRSRS
Syracuse ⇒ Agrigento ⇒ Palermo
Today h 8:00AM you will meet your Tour Escort and driver to leave across the vast countryside enables us to see Sicily's great variety of sceneries. We arrive in Agrigento whose history dates back to 580 BC. Own tour to the Valley of the Temples (admission fee: not included), a magnificent cluster of Greek ruins overlooking the Mediterranean Sea. This afternoon we continue to Palermo, the capital of Sicily.

HIGHLIGHTS:
* Valley of Temples, one of the most important archeological sites in the world and a Unesco world heritage site since 1998. Along a long rocky scarp, chosen as the southern limit of the town, are still sited the great temples of ancient Akragas:the Temple of Hera (Juno) Lacinia, Concordia, Heracles (Hercules), Olympian Zeus (Jupiter), Castor and Pollux (Dioscuri) and Hephaistos (Vulcan).
PRICE & BOOKING INFORMATION
Coach (up to 16 people) Euro 1090,00 —> Deposit Euro 300,00 + Balance Euro 790,00 to be paid 30 days before the tour starts
Booking process system:
You can use the online Booking Procedure (be careful to select the number of vehicle you need: not the number of peple) Your Order will be Open automatically and will be processed from our Boking Office. You will get a Confirmation after we have verified availability and have charged, manually the Deposit Required (Eur 300 per vehicle). As per our policy, this deposit is needed to guarantee the booking.
You will pay the balance within 30 days before tour begins
WHAT'S INCLUDED
– Mini coach 16 seats with air conditioning;
– English speaking Tour Escort;
– independent visit as per itinerary;
– Credit Card fees;
– Legal Invoice;
– Parking fees, tolls and fuel
– VAT.
WHAT'S NOT INCLUDED
-Admission fees;
-Gratuities and Tips;
-Licensed Tourist Guide;
-Beverage and meal;
-Travel Insurance;
-Hotel accommodation;
-City taxes.
***** IMPORTANT TO KNOW *****
START/FINISH
The tour is Land only; begins in Palermo with pick-up in your hotel (booked on your own) and ends in Syracuse with drop-off at your hotel (booked on your own).

DRIVER ESCORT INFORMATION
We customized these excursions using a Driver-Escort. A Driver Escort is a chauffeur (or driver) specialized to drive you around our amazing island. He is able to provide basic historical information, he can show you the main highlights … he is knowledgeable and he has an umbrella of information. Our Driver Escort will take care to give adequate time at all stops and to accommodate special requests when possible, he will assure that your experience in Sicily will be both memorable and enjoyable.
The Driver Escort is not a Licensed Tourist Guide (Licensed Tourist Guide: are the only professionals — with a Regional license — permitted to conduct visits and tours in all sites and museums within a city) and he cannot escort you inside the monuments because this is not allowed by Italian Rules. In case you need a Licensed Tourist Guide you must pay a surcharge and we will arrange for Licensed Guide to meet you directly on the spot.
LICENSED TOURIST GUIDE (Service is available on request)
These excursions doesn't include Licensed Tourist Guide. We are able to book this service on request, subject to availability.
ADMISSION FEE
The price of this tour does not include the Admission Fees. If you are under 18 years old the admission fees are free of charge for you showing your document (or copy of your document) on the spot.

GRATUITIES (We Suggest)
– The suggested amount for the Driver Guide have to be an average between EURO 30,00 to EURO 50,00 (for a full day excursion) per day based on the efficiency and service you receive.
–Gratuities to restaurants are never included in the bill. The restaurant cover charge is not a tip. If paying with credit cards in Italy & Sicily, please be so kind as to pay your tip separately in cash to the waiter. This should be 10% of the total bill.
–The use of public toilets requires a payment to the attendant of EURO 0,30 cents. Public toilet charge EURO 0,50 cents.

BAGGAGE HANDLING
One big size and one trolley per person are allowed in this tour.

DISABLED TRAVELERS:
Please be so kind as to share with us, before booking, if you have walking limitations.