Accommodation:
First & Deluxe
Physical rating:
Easy
Operated in:
English
Hygiene Measures:
Included
Trip OVERVIEW
Sicilian food is the original fusion cuisine, a unique mix of all of its diverse cultural heritages.
The island has been at the heart of thirteen different empires over the last three millennia, and each one of them has left its mark on the Sicilian Gastronomy.
Experience a wide range of activities over your 10 day journey from the Western edge of the island to the East. Spend your vacation in the company of our expert guides and drivers to discover Sicily like a local.
Begin your Sicilian vacation in the town of Palermo. Witness the castles, fountains and souks of the city and its strong Arab-Norman influences. Visit villages off the beaten track where you can indulge your senses in the local dishes. Walk the medieval streets of Erice and taste the famous marzipan, then enjoy the winery and salt way road around Marsala; visit the outstanding Valley of the Temples in Agrigento and the Roman mosaics in Piazza Armerina!
See the particular baroque architectures of Ragusa and taste the chocolate in Modica. Visit the lovely Ortygia island connected with Syracusa by the Umbertino bridge.
Explore the cliffside town of Taormina overlooking the Ionian Sea before witnessing the lunar landscape atop Mt. Etna, the largest active volcano in Europe.
Of course, no trip is complete without a visit to a vineyard and cooking classes to take the taste of Sicily home with you.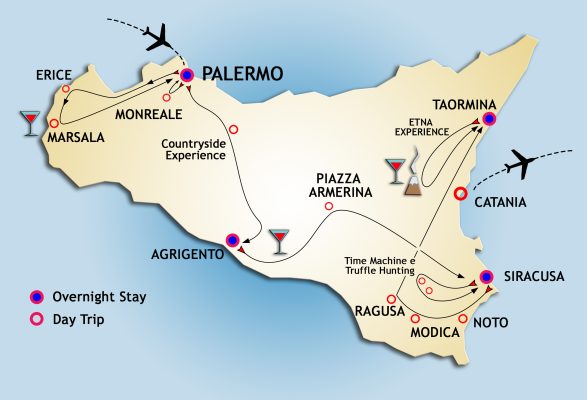 Trip PLAN
Start in Palermo –West side– and end in the East side!
With the Small Size Food and Wine Tour, you have a 10 days tour package taking you through the most important local highlights of Sicily.
Small Size Food and Wine Tour includes two different style of accommodation –in First Class hotel and Deluxe hotel– so you can decide which one fit your needs and expectations!
AGREE THE ITINERARY
Small Size Group Tour or Private Tour only for your family and friends … it's up to you. We do create unforgettable Tour of Sicily based on your needs, time to spend in our island and expectations. Share with us your needs and we do trasforme them in reality!
Top TESTIMONIALS
Denise Doyle
Chicago, IL
The trip was fantastic and exceeded my expectations. The TourofSicily touch (meal, wine, olive oil, organization, local contacts, trip leaders) made all the difference. It was a fantastic trip in all respects.
Tom O'Neill
Naples, FL
I've been active traveling for 20+ years. Never have I experienced such a level of professionalism and execution of detail all focused around providing the greatest overall experience. Bravo TourofSicily.
Mauereen Cox
Lafayette, CO
My whole life is changed because of this Sicily Food and Wine experience. I've just been home for an hour or so, and have already emailed everyone I know to tell them to get on the TourofSicily website to book a trip.