Sicily Semi-Private Tour | 9 days
Hey there, are you feeling adventurous and ready to explore the beautiful island of Sicily?
Well, I have some exciting news for you! If you're looking for a unique way to experience Sicily, then a semi-private tour might be just what you need.
Imagine traveling with a small group of like-minded people, visiting hidden gems and tasting delicious local cuisine. In this article, we'll explore the advantages of a small size tour and share a 9-day itinerary for an unforgettable Sicily tour.
So, get ready to pack your bags and let's go!
What is a semi-private Sicily tour and why choose it?
A semi-private Sicily tour is a small group tour that allows you to discover the island's hidden treasures with other travelers. The maximum group size is usually around 7 people, which means you'll get a more personalized experience and have the chance to connect with your fellow travelers. The tour guides are locals who know the area inside out and can show you the best places to visit, eat, and drink. Plus, you'll get to experience the local culture in a way that's not possible on larger tours. You'll have more flexibility in the itinerary and can even customize it to suit your interests. So, if you're looking for an authentic and intimate way to explore Sicily, a semi-private tour is definitely worth considering!
The advantages of a small size Sicily tour up to 7 people
There are several advantages of choosing a small size Sicily tour with up to 7 people. Firstly, you'll get to know your fellow travelers and form meaningful connections that could last a lifetime. Secondly, the tour guides will be able to give you more personalized attention and answer all your questions about the island's history, culture, and traditions. Thirdly, you'll have more time to explore each destination and take in the sights without feeling rushed. Fourthly, you'll have access to places that larger tour groups can't visit, such as small villages or family-run restaurants. Finally, a small size tour means less impact on the environment and local communities. So, not only will you have an unforgettable experience, but you'll also be supporting sustainable tourism!
A 9 day itinerary for a memorable Sicily tour
Are you ready for a 9-day adventure in Sicily? Here's a sample itinerary that will take you to some of the island's most beautiful and fascinating destinations.
In conclusion, a semi-private Sicily tour is an excellent choice for those who want to experience the island's unique culture and stunning landscapes in a more intimate and sustainable way. With a small group of like-minded travelers and knowledgeable local guides, you'll create memories that will last a lifetime. So, what are you waiting for? Book your 9-day Sicily tour now and get ready for an adventure of a lifetime!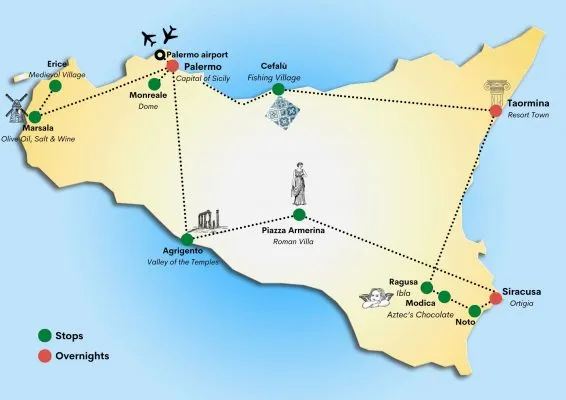 Palermo Highlights and Street Food Tastings
Dome in Monreale with 6.340 square meters gold mosaics
Erice and the Medieval village
Marsala: salt, wine and olive oil experience
Valley of the Temples in Agrigento – UNESCO site
Mosaics Floor at the Roman Villa – UNESCO site
Siracusa Archaeological Park and the lovely Ortigia
UNESCO Baroque Trilogy: Noto and Ragusa Ibla
Modica Aztec's Chocolate
Taormina world famous resort town of Sicily
Cefalù with the Norman Cathedral and the Medieval Lavatory
Every Sunday & Wednesday
from PALERMO
8 nights/9 days
Palermo (3 nights) Siracusa (2 nights) Taormina (2 nights) Palermo (1 night)
Hotel: 4 star (first class & boutique)
1° day (Sunday & Wednesday) Arrival in Palermo airport (PMO) > Transfer in Palermo
2° day (Monday & Thursday) Monreale and Palermo Half Day Tour with street food tastings
3° day (Tuesday & Friday) Erice and Marsala: Salt, Wine and Olive oIl Experience
4° day (Wednesday & Saturday) Palermo to Siracusa (visit: Valley of the Temples and Roman Villa)
5° day (Thursday & Sunday) Best of Siracusa, half day
6° day (Friday & Monday) Siracusa to Taormina (visit: Noto, Ragusa Ibla and Modica)
7° day (Saturday & Tuesday) Taormina at leisure (optional activities available today)
8° day (Sunday & Wednesday) Taormina to Palermo (visit: Cefalù)
9° day (Monday & Thursday) Departure Transfer to Palermo airport (PMO)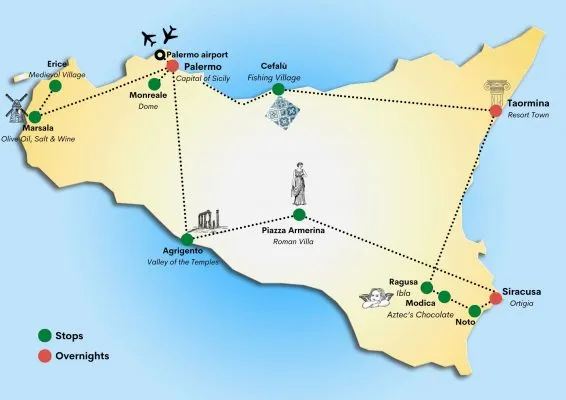 INQUIRY US FOR MORE INFORMATION