Helicopter Tours Etna Volcano and Taormina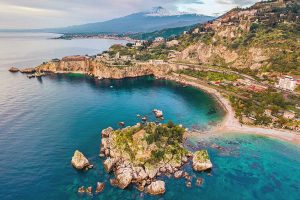 Meet & Greet at the helipad, welcome drink and briefing with our team.
Then, on board on the helicopter and we will proceed to the northern side of the volcano, flying over the municipalities of Piedimonte Etneo, Linguaglossa and during the ascent you can admire a majestic forest of conifers and the old lava flows that descend almost to the Etna villages.
His Majesty Etna: the highest active volcano in Europe with its 3,357 meters, leaves anyone who arrives in Sicily breathless. Contemplating this fascinating volcano from a helicopter is the most exciting way to grasp the striking beauty in its entirety.
As you get ever nearer to the peaks, you will fly over the ski resort of Piano Provenzana, enjoying a unique view of the flows that formed the series of craters called "la bottoniera"; here, the vegetation ends and is replaced by the sciara that will leads you up to the majestic view of the summit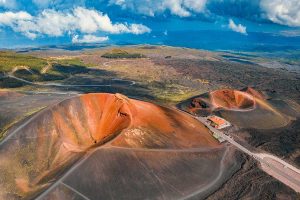 craters.
We are at an altitude of about 3500 meters and the view from here covers the whole of Sicily, the Aeolian Islands and Calabria.
You will begin the descent along the volcano's more rugged side to reach the Sapienza ski resort and refuge. From here, you will enjoy a unique view of the city of Catania and the Gulf.
Proceeding east, we will fly over the old, extinct Silvestri Craters before passing over the 'donkey's back' that leads to the vast Valle del Bove. We will survey the 2002 flows that destroyed the village of Zafferana Etnea. You will continue to descend until you reach the Riposto Marina, a well-known and popular tourist port; from there, you will follow the coast, flying over the beaches and the turquoise sea until you reach Giardini Naxos, the Greek excavations and then turn towards Taormina –the world rsort town of Sicily–. The famous Greek Roman Theatre, symbol of the city, the castle, and down towards the famed gulfs and the coves, Cape Taormina, Isola Bella, and then up towards Castelmola.
One last look at the coast, past Calatabiano Castle and it is time to go back at the helipad.
Availability

Daily On Request