SICILY, ON THE ROOTS OF WHITE LOTUS SEASON 2 – PRIVATE TOUR OF SICILY – 8 DAYS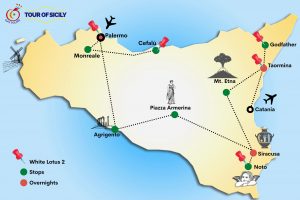 Tour of Sicily has announced a new White Lotus tour that takes guests to many of the real-life settings from the award-winning comedy's Season 2, set in Sicily.
The White Lotus is an American black comedy-drama anthology television series created by Mike White for HBO. It follows the guests and employees of the fictional White Lotus resort chain whose stay is affected by their various psychosocial dysfunctions.
The first season is set in Hawaii and the second season is set in Sicily.
We are an inbound tour operator specialized in delivering one-of-a-kind holidays around the island committed to make you experience customized tours, food journeys and wine tastings in some of Sicily's nicest places.
​We simply can't imagine a better way to immerse yourself in the life of Sicily without a company like us, to explore hidden corners and appreciate nuances while enjoying the benefits and enormous satisfaction of traveling under your own power.
Travel with Locals is, at its heart, a way of connecting more authentically with the world.
​Our 100% Sicilian Local Expert Trip Designers, have crafted itineraries that blend walking, hiking, historica-archaeological-cultura sites, sauntering and meandering with a culinary story that entails cooking classes, meal experience in picnic style, personalized visits to local farms, tastings of local specialties, cheese factories, wine and olive oil tastings and of course, unforgettable meals.
Stroll, sip, and savor your way through this unforgettable trip experience and Start NOW and be in touch with us asking the day-by-day tour which is ground services only OR included of hotel accommodation.
---
CONTACT US TO RECEIVE THE DETAILED TOUR AND COSTS
---
Tour Recap
7 nights – 8 days
Palermo (3 nights) Siracusa (2 nights) Taormina (2 nights)
1st day – Arrival in Palermo airport – Transfer to Palermo
2nd day – Palermo Half Day Walking Tour with Arancine and Street Food tastings
3th day – Cefalù and Monreale
4th day –  Palermo to Siracusa (with stops to Agrigento and Piazza Armerina)
5th day – Syracusa, Ortigia and Noto
6th day – Siracusa to Taormina (with stop to the Etna Volcano) with lunch in winery
7th day – Taormina and Godfather Villages
8th day –  Departure from Catania airport – Transfer from Taormina
TOUR CODE: WHITELOTUS
Tour Type

Private Tour up to 6 people