Sicilian Almond Cookies Recipe – Gluten free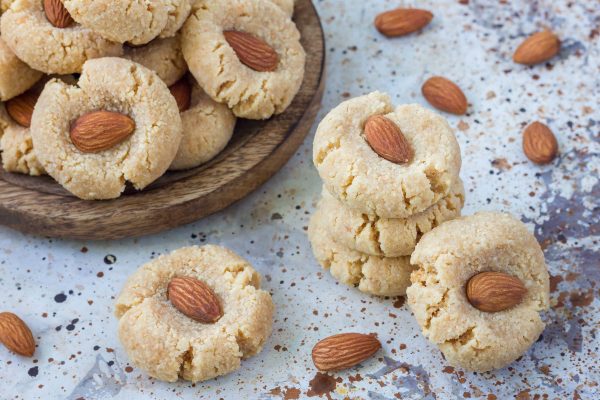 If you love Italian desserts do not miss this recipe: Sicilian Almond Cookies
Sicilian Almond Cookies  are a famous local dessert typical of Sicily. Soft and tasty, they are fast to make (and to eat…). They are also a gluten-free dessert.
Let me say a secret: the best location in Sicily to eat these cookies is Erice. If you are in Palermo and wish to travel to Erice in a day-tour read our group tour: https://www.tourofsicily.com/erice-and-segesta-day-tour-from-palermo/
This recipe is without flour. You need 4 ingredients: peeled almonds, sugar, egg whites, honey and vanilla extract.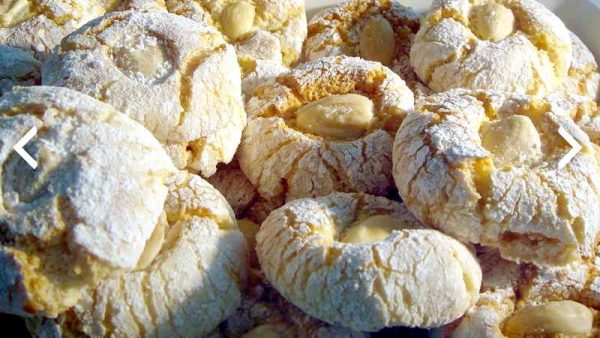 In some Sicilian Almond Cookies recipes you can find candied orange peel, pureed and added to the mixture (about 50g). We think this recipe is faster while respecting our Sicilian tradition. You can use almond flour, although biscuits made with peeled almonds taste much better.
For decoration we used some flaked almonds, but you can use candied cherries, coffee beans or orange candied as well. This is up to you!
---
Sicilian Almond Cookies Recipe
Prep Time: 10 Min
Cook  Time: 5 Min
Yelds: 25 cookies 
Ingredients
500 g of peeled almonds or almond flour
300 g of sugar
50 g Miele di Zagara (orange or lemon blossom honey). Zagara is the Italian name for the orange or lemon blossom. It is a honey produced in Sicily, the land of citrus fruits. It must be added to the mix that will become softer
2 egg whipped whites
1 teaspoon of vanilla extract
a few drops of bitter almond extract
Decorations: candied cherries or orange, flakes almonds, pine nuts, coffee beans.
---
In a mixer grind almonds and sugar in order to reduce them into a rather fine flour. If you have already the almond flour, just mix it with sugar. Add whipped egg whites,vanilla extract, a few drops of bitter almond extract and honey then mix everything with the electric food processor.
The mixture of almond paste has to be firm.
Make balls with your hands and crush them sideways directly on a baking tray covered with greaseproof paper, then add decorations. Decorate each almond cookie with an almond (or half-candied cherry or a coffee bean or a candied orange or other if you prefer). Preheat the oven to 180°C then bake them for 5 minutes.
Pay attention to the cooking: almond cookies should be just golden outside and still soft inside. This type of cooking keeps the pastries crispy but with a soft almond heart.