Sicily Travel Planner up to 14 days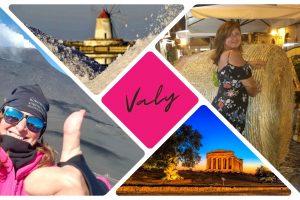 Nice to meet you. This is Valeria Gulotta (nick-name: Valy) and I am very pleased to deal with you.
Are you looking to travel to Sicily and Italy?
Too many sites to explore, too many things to plan and I am quite sure you are a little bit confused trying to combine all.
NO STRESS … travelling has to be a pleasure!
I am here to help you plan an unforgettable private tour.
THE TRIP PLANNING FEE IS REFUNDABLE if you book services up to 3.000 total VAT included.
Start today, take a map, paper, pen and put down your ideas, together we will customize your perfect and unforgettable Italy-Sicily experience.
​You can easly surf on our web-site, pick each single service you are interested in, sum all up and obtain the total costs that you can compare with the customized-multidays-tours I provided…..I can tell you with out problems that a cutomized tour is for sure much more expensive!
If you are looking just for single day tours you can book on-line using the various amazing tours we offer and that are available on the above MENU.
If you are looking for a Real, Original, Unforgettable, Experience of Sicily: trust Valy!
Anyone can book a tour, pick a hotel, choose day-tours and transfer with stops and read the list of "must do's".
What  we offer is a unique travel experience: picnics with local treats in awsome overlooks, off the beaten track routes, lunch and cooking classes with locals, high professional- friendly-knowledageable drivers and team.
Let Valy capture your dreams and make her transform them in a real vacation, all this requires foresight and attention to details.
This is Valy job, and this is a Sicilian Travel Planner!
Trip Planner

up to 14 days