Have you ever wanted to immerse yourself fully in the place you are visiting? It's a very exciting prospect, but connecting with a destination can be difficult, as there is so much to see and do in a relatively short time.
What if you could experience Sicily in its entirety? I mean not just scratch the surface of this incredible island, but discover a coast to coast journey where you will gain a much deeper understanding of the place and the people.
See Sicily, like only the locals can, in just 9 days! Your holiday includes jaw-dropping scenery, good food, fine wine, and plenty of art and architecture. Here's a peek at the trip of a lifetime:
Day 1: Benvenuto a Sicilia! Welcome to Sicily!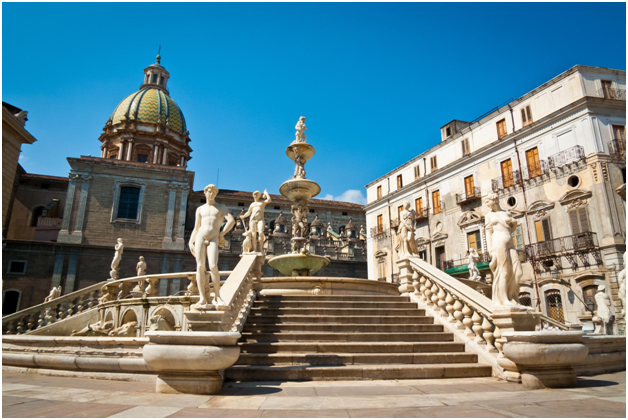 Welcome to the beautiful and ancient island of Sicily! After arriving at Palermo Airport (PMO) and passing through passport control, you'll head straight to your hotel in town. Depending on your arrival time, you may want to relax a little or just start exploring a bit of Palermo.
Palermo is the capital city of Sicily and is home to over 2,700 years of history, which you can see for yourself while walking the streets of this aging city.
Despite the crumbling and cracks, Palermo has a growing contemporary art scene and many forward-thinking restaurants serving up traditional Sicilian dishes. Fancy a nightcap of Sicilian wine? Head to Enoteca Vinoveritas, a tiny neighborhood wine shop that serves up some of the best Sicilian wines like grillo and nero d'Avola.
Day 2: In Palermo, C stands for Castles, Chapels, and Cathedrals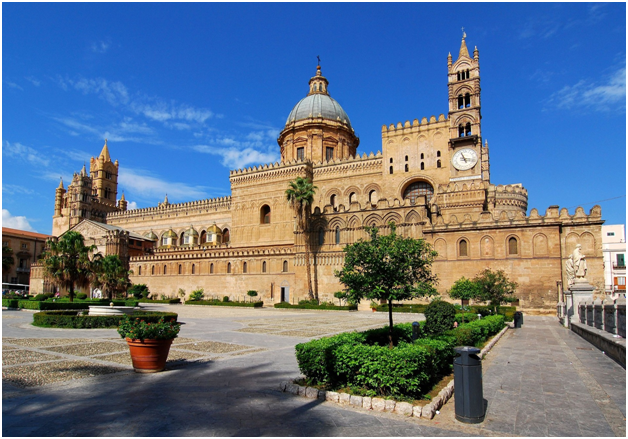 As the historic capital city, it's only fitting to start your tour of Sicily in Palermo. Your English speaking local guide will take you to all the major landmarks in this sprawling city starting with a visit to Zisa Castle. Zisa Castle is a 12-century palace constructed in the Norman-Arab style of architecture. The name "Zisa" is Sicilian for the Arabic word "Al-Azizah," which means "The Splendid."
Later you'll explore the Palatine Chapel located within the Palazzo dei Normanni (Norman Palace). Built between 1130 and 1140, the Palatine Chapel is adorned with stunning Norman-Byzantine mosaics. After the Normans had left the Palace, it fell into decay until the Spanish viceroys started restoring it in 1555. Today, it is the seat of Sicily's semi-autonomous regional government.
After lunch, you'll stop by the Cathedral that dates back to 1185. Built as a church by Walter Ophamil, it was later turned into a mosque by the Saracens after their conquest of the city in the 9th century.
Next up, you'll finish the day at Quattro Canti, or the Four Corners. Four Corners is the center point of the four areas of the old town center. In each corner, you'll see unique sculptures depicting different themes, such as the four seasons, and the four Spanish kings.
Last stop of the day is the Ballaro Open Air Market, where your taste buds will be tantalized by fresh fish, local vegetables, and savory cheese.
Day 3: The Massive Mosaics of Monreale are a Must During Your Visit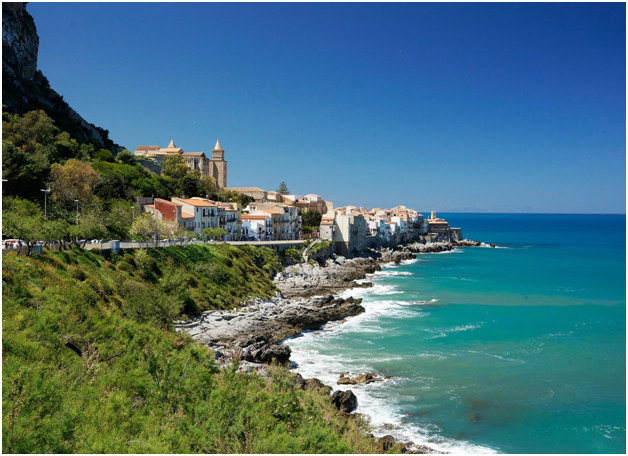 Nestled between a tranquil bay and towering rocky granite peak, the small town of Cefalu offers plenty of activities for tourists. From its sandy beaches to winding Medieval streets, Cefalu's origins date back to the days of the Greeks. The town's Cathedral is home to a splendid mosaic of Christ Pantocrator that is worth seeing with your own eyes.
After lunch, you'll head to Monreale to see incredible Arab-Norman art and architecture. You don't want to miss the Monreale Duomo with its stunning golden mosaics that represent the scenes from the Old and New Testaments. Both the cathedrals of Monreale and Cefalu were granted status as UNESCO World Heritage Sites in 2015.
Day 4: Indulge A Little with Some Tasty Treats in Erice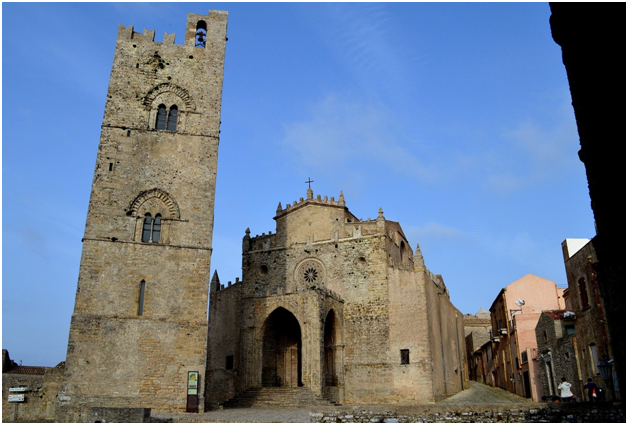 Known as an important religious site associated with the goddess Venus, the city of Erice is also famous for its many homemade pastry shops.
If you have a sweet tooth, then Erice will sure to be one of your favorite stops in Sicily. Started in 1964 with only three pounds of almonds, Maria Grammatico's Pasticceria is the place to go for traditional Sicilian Cassate, Cannoli, and Almond pastries. You might need to purchase a new suitcase to bring all her delicious pastries home to share with your friends and family!
Continue satisfying your taste buds with lunch at an olive oil farmhouse, which includes a tasting of the silky oil. After you've filled your belly with sweets and olive oil, you'll travel from Trapani to Marsala by the Via del Sale (Salt Way Road). Your first stop will be Saline (Saltpans), which is part of a beautiful nature reserve where you can view traditional windmills of the Marsala-Trapani coast. Saline, home to saltpans, will certainly indulge your senses and leave you wanting more of Sicily.
Day 5: Walk Among the Ancient Gods and Goddesses at the Valley of Temples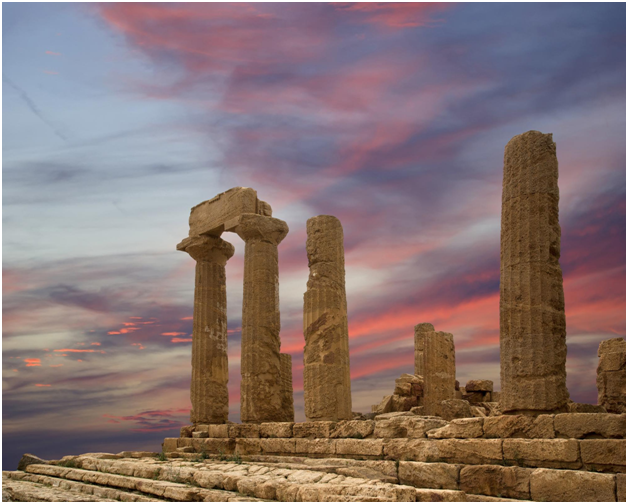 Sicily is one of the best places outside of Greece to see Greek temples, and there is no shortage of these ancient beauties to see today. You'll spend the entire day visiting all the finest temples, including the complete Doric Temples, one of Sicily's most famous historical attractions. History buffs rejoice!
The Doric Temples are one of the best examples of Greater Greece art and architecture—they're a UNESCO Heritage Site. Founded in 6th century BC as a Greek colony, Agrigento was one of the leading cities of its time. Much of the ancient temples lie intact under fields and orchards.
Later in the day, you'll stop at Piazza Armerina, home to the famous Villa Romana del Casale that sits 721 meters above the sea. Built as a hunting lodge in the middle of the 4th century AD, Villa Romana del Casale has some of the best-preserved samples of Roman mosaics throughout its structure. Most likely created by North African artisans, these vivid mosaics portray numerous subjects, including Homeric escapades and mythological scenes.
Day 6: Explore Syracuse as a Typical Sicilian Would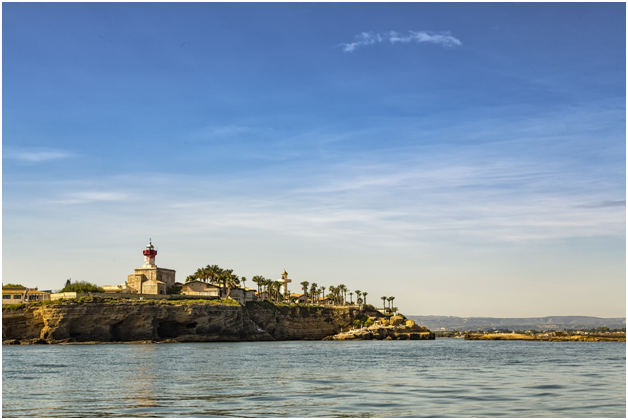 Located on the Ionian coast of Sicily, Syracuse is known for its many ancient ruins. People come from near and far to see its world-class Archaeological Park. Highlights of the park include the Greek Theatre, the Roman Amphitheatre, and the Paradis Quarry.
After a morning of wandering the ancient ruins, it's time to take a stroll through the streets of Ortygia Island. The Dome, in the heart of the city center, was built on the site of an ancient Temple of Athena that can still be seen from the original Doric columns that were incorporated into the cathedral's design.
Not far from the Dome you'll find the Baroque Palazzo Beneventano and the church of Santa Lucia, the town's patron saint. Nearby you'll find the daily Street Market with a colorful and fragrant array of fruit, vegetables, fish, and meat.
In the afternoon, you'll head the Syracuse's eastern limits to wander through its maze of winding streets and shops. The Byzantine Miqwe is the biggest and oldest Jewish ritual bath in Europe and is not to be missed.
Day 7: Chocoholics Rejoice! Tempt Yourself with the Chocolate of Modica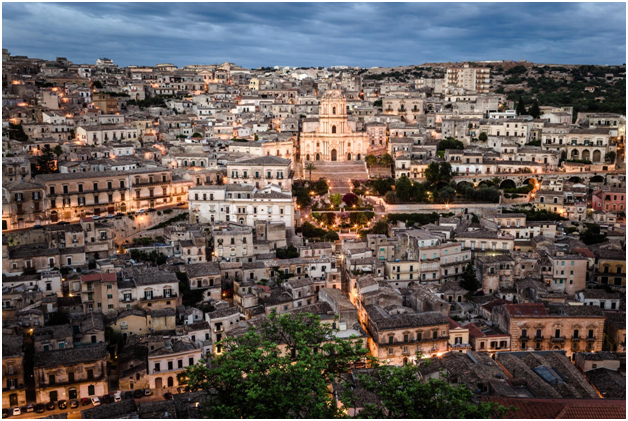 Like many small towns in Val di Noto, Modica was severely damaged in the 1693 earthquake and rebuilt in the Sicilian Baroque style. Divided into "higher" and "lower" parts with connecting flights of steps, Modica is a unique town. The houses seem to rise from the bottom of the gorge and appear stacked on top of one another. You'll definitely want your camera here!
While you'll want to see the beautiful Baroque architecture, it's really the chocolate you came for. Don't worry; we won't judge! Modica is the custodian of a 400-year tradition of Sicilian chocolate-making. Since Sicily was part of the Spanish kingdom for centuries, it was one of the first recipients of cacao that was brought back from South America. Modica specializes in granulous chocolate based on Aztec methods and recipes. It's unlike anything you have tried before.
After a morning of watching the Sicilian chocolatiers at work, it's time to head to Ragusa. The city of Ragusa was destroyed by the earthquake of 1693 and was later rebuilt in two separate locations. The rich rebuilt in Ragusa "Superiore" while the rest rebuilt on the original site, Ragusa Ibla. Today, the two towns are once again one city and contain incredible architecture and views of the gorge.
Day 8: Marvel at the Mighty and Monstrous Mt. Etna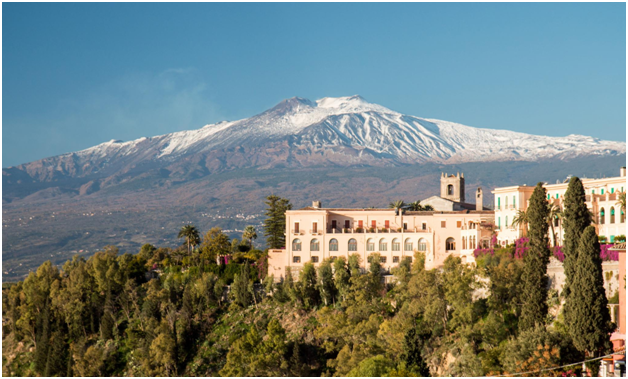 Mt. Etna is the tallest and most active volcano in Europe. She last erupted between October 27, 2002, and January 29, 2003, which is now considered one of the most explosive eruptions of the past one hundred years. But don't let her activity keep you from giving up close and personal with this majestic beauty. Today you'll hop in an off-road jeep and visit the 2002 lava flow and the cave of Corruccio. The cave, located at 1350 meters above sea level, was formed by flowing lava.
You'll continue to Piano Provenzana, a ski resort at 1800 meters where you'll enjoy an excellent espresso. Finally, at 2900 meters, you'll reach the summit craters. Here, one can take in the most impressive views in the world – the multiple fumaroles and seemingly lunar landscapes created by multiple eruptions between 1923 and 2002.
On the way down, you'll cross vast expanses of vineyards on the Wine Roads of Sicily. You'll stop at a local farmhouse where you can relax and sip on excellent Sicilian wines and sample local cuisine.
Day 9: Enjoy Your Last Full Day Filling Up on Flavorful Sicilian Food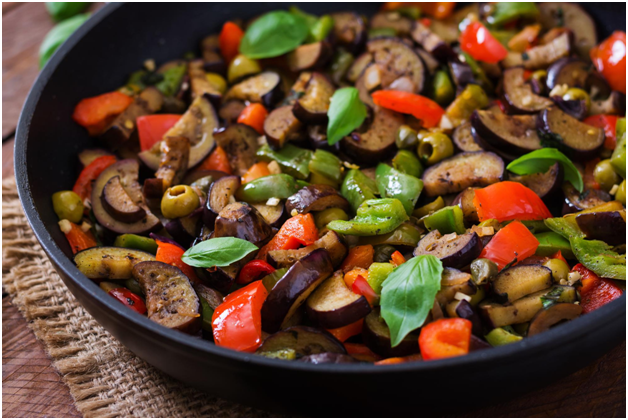 Your last day in Sicily is all about the food, so enjoy your culinary dream. Most people know Italian food, but many are not aware of the delicious and flavorful dishes of Sicily.
In the morning, you'll meet a local chef in Taormina where you'll walk to the local open air market to search for the freshest fruit, vegetables, and ingredients you need to make your own Sicilian dishes.
At the restaurant, you can cook up a storm in a signature cooking class and later finish by eating your creations along with some beautifully paired Sicilian wine. And, if you still have room for more, try the dessert accompanied by a typical local dessert wine.
After stuffing yourself silly, you can spend the whole afternoon to exploring the city at leisure. We recommend grabbing a table and sipping on more wine or espresso at Caffe Wunderbar where Tennessee Williams and Elizabeth Taylor once sat.
If you're looking for a more active afternoon, stroll the picturesque lanes above and below the Corso and window-shop for the perfect souvenirs. The Greek-Roman Theatre is quite beautiful and a perfect way to end your visit to Sicily.
Explore the Best of Sicily Today
Sicily is more than just the "toe" of Italy's "boot." It is a beautiful island rich in history, architecture, and archeological sites. Home to ancient cities, like Syracuse and Palermo, and Europe's tallest volcano, Sicily has much to offer visitors.
If you're not sure where to start your Sicily adventures, Tour of Sicily can help. We are here to assist with all your travel needs from the big decisions to the really small details to make your trip truly memorable. Our 9-day Coast to Coast Tour is an excellent way to visit all the major highlights of Sicily, for an authentic view of our incredible island.
If you want to experience your very own Sicilian dream tour, get in touch to start the planning process. Maybe you're not quite ready to book a tour, then why not sign up to our free email series, for more information on how to plan the trip of a lifetime.