CANNOLO: one of the most famous Sicilian pastry in the world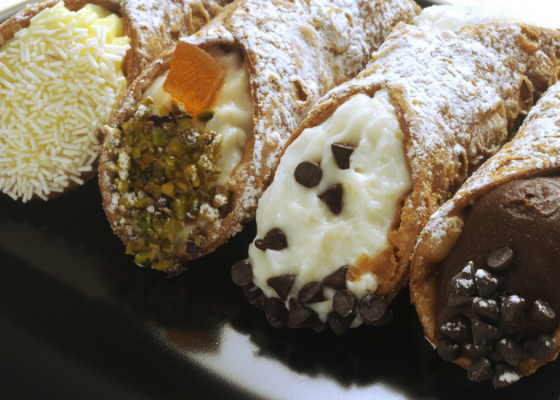 This is Valeria Gulotta –Valy for all my friends- it's a plaesure talk and share with you my knowledges aboout my incredible island.
To start, let me ask you just a question: How many times you desired to enter in a pastry shop just to buy one of the best Sicilian desserts? Let's have a closer look: Sicilian cannoli has been officially recognized and included in the list of traditional Italian agri-food products.
Legend tells that cannolo originated in Caltanissetta (a Sicilian town known for the presence of many sulfur deposits). The name of Caltanissetta in Arabic means "women's castle"; in the period of Arabic domination, the emirs possessed an harem full of women, whose, to satisfy the pleasures of the men, used to devote themselves to the preparation of many dishes, including cannoli.
With the arrival of the Normans, the harems emptied, and the population was converted to Christianity. But the culinary Arabic tradition remained, and cannoli continued to be produced in the convents of the city of Caltanissetta.
Although it was born in Caltanissetta, Sicilian cannoli owes much of his fame to the Palermo pastry chefs who have personalized the recipe and dedicated more than one celebration to this extraordinary dessert: from the "Sicilian Cannolo Festival", to "Cannoli & Friends" , which takes place in the amazing Piana degli Albanesi.
Differences between Palermo and Catania
A small curious note divides the Sicilian cities, in particular Palermo and Catania.
The rind of the cannolo is in fact made differently in the two cities.
In the area of ​​Palermo, the rind of cannoli is made with the addition of white wine and bitter cocoa, besides to flour, butter, sugar and eggs. For the filling, are used sheep's ricotta, sugar and chocolate chips. To garnish the ends, add candied orange peel and a sprinkling of icing sugar.
In Catania, instead, the cannolo rind is made just with the addition of white wine. For the filling, are used sheep's ricotta, sifted to be smoother, chocolate chips and cubes of pumpkin to enhance more the flavor. The garnish on the ends of the cannolo provides the addition of pistachio grains and a sprinkling of icing sugar.
In conclusion, if you wish assistance to plan your Sicilian Vacation feel free to be in touch with us using the following form: https://www.tourofsicily.com/contact/
Vincenzo and I, together with all the team, will be pleased to customize your perfect vacation!