Ciao Readers
This is Valeria Gulotta –Valy for all my friends– and I would like to share with you how to plan a tour of the island of Sicily in 10 days!
What I do recommend?
Land in Palermo airport, in the west side
Leave from Catania airport, on the East Side
Overnights:
Three nights in Palermo (west side)
One night in Agrigento (south side)
Two nights in Syracusa (south east side)
Three nights in Taormina (east side)
Amazing and mysterious Sicily, with its looming volcano, sparkling blue waters, hilltop villages, delicious meals. The largest island in the Mediterranean truly does have it all; whether you're looking to lounge on a beach, dive headfirst into the cuisine, explore the Roman –or Greek, or Norman, or Arab, or Byzantine– history, or visit famous Mount Etna, a Sicily trip has something to offer.
Planning your own trip to Sicily and not sure exactly where to go? Is easier planning your trip with us. Is stress free because you can have me, working with you to define the route and you can be sure we have all the instruments to indulge you to explore the real island. And in case you wish to reduce –or increase– your stay? It's ok … read other tour solutions on Private Multidays Tour or write to me and I will be pleased to adapt your stay at the sites you wish to explore, skipping the ones you are not interested to see.
I've put together this 10 days in Sicily itinerary for an unforgettable experience exploring all the most important Sicilian Highlights and Offe the beaten track route. How I plan it? For sure, hiring a private vehicle –from 2 people up to 6 people of friends travelling together– and a 100% Sicilian driver –English, Sicilian and Italian speaking–. Why English/Sicilian/Italian speaking? Because is the only way to explore teh island, indulging your senses in the local life, taste special delicious organic meals and talk with locals in the original Sicilian slang which is fun to learn and fun to listen. Get the idea?
Let's go tto plan something that can be your personal and amazing tour-experience in Sicily:
Day 1 – Benvenuti in Sicilia "Welcome to Sicily"

Welcome to the beautiful and ancient island of Sicily!
Upon arriving at Palermo Airport (PMO) passing through passport control and leave the airport using a Private Transfer or a Taxi or a Public Bus.
If you land in Palermo in the morning you can have the afternoon at leisure to explore the area around your hotel on your own especially if you book the property centrally located: there are bars, restaurants, pizzerie and pubs as well as Italian and Sicilian fashion and souvenir shops.
Enjoy your first dinner in Palermo using a local trattoria and do not forget to taste the Pasta alla Norma or the Involtini alla Siciliana which are the highlights of our local cousine! Buona Cena
Day 2: Palermo and Street Food Walking Tour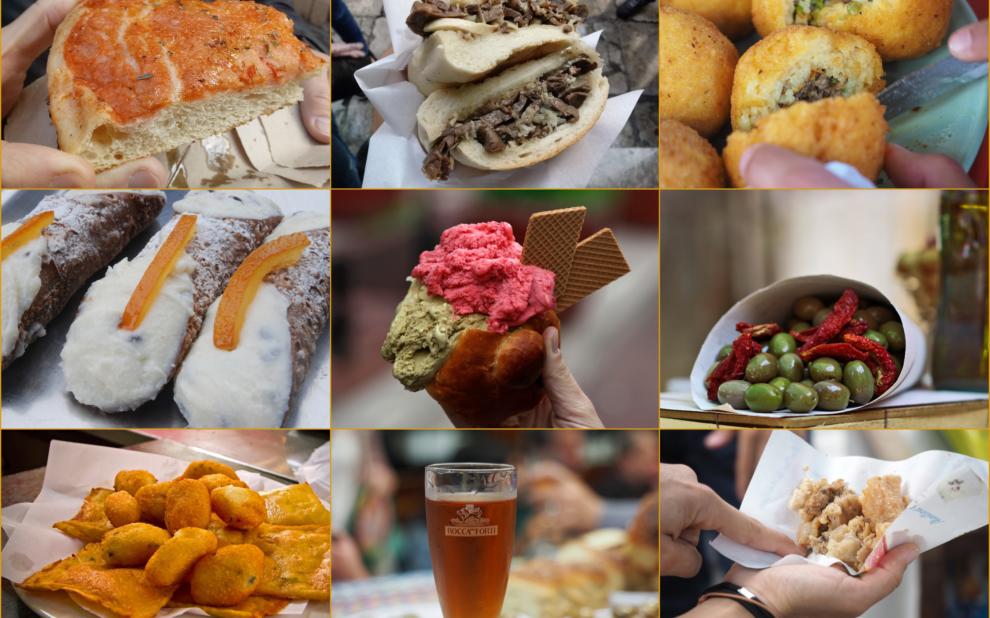 Today dress confortable and use sneakers because the day is dedicate to walk and explore. Palermo and the best highlights are all located in padestrian area so walking is definitely the best way to see and enjoy. In case you are too tired, do not feel scared … you can hire a taxi paying a few euros on the spot and you can cover the long distances. Our first stop today is at the Palatine Chapel a finest example of Arab-Norman art in Palermo. Built by Roger II from 1130 to 1140, the chapel is adorned with extraordinary Norman-Byzantine mosaics. We then continue onto the Four Corners which is the junction in Palermo. Effectively, it is the centre point of the four areas of the old town centre. You will almost inevitably pass through it and it is worth stopping for five minutes to have a look at its sculptures which were commissioned by the Spanish Viceroy in 1611. The sculptures on each of the four corners depict a variety of themes, including the four seasons, four Spanish kings and the four patron saints of the old town areas. Going south-east down Via Maqueda you will come across Piazza Pretoria which is home not only to a splendid fountain but several other impressive buildings including, on the right, the City Hall. The fountain, known for generations as the "Fountain of Shame", has an interesting history. The large central fountain is the focal point for sixteen nude statues of nymphs, humans, mermaids and satyrs. If you imagine this being erected during the Inquisition, it is quite easy to imagine why it received its epithet, the "Fountain of Shame". The last but not the least is our stop at the Ballarò Open Air Market a place overflowing with beautiful fresh fish, and local vegetables and cheeses.  Originating from the era when Sicily was occupied by the moors, this 1000 year old market has run much in the same manner for centuries.  It has strong Arab influences, resembling an eastern souk, and these influences are also evident in the merchandise itself.  Next to mounds of ricotta and caciocavallo cheeses, barrels of olives and fat slabs of swordfish sit saffron and other spices, as well as sacks of beans and gorgeous indigenous fruits and local vegetables.  Here you will have the opportunity to taste a typical palermitano dish, such as the famous Panelle —a thin paste of crushed ceci/garbanzo beans rolled into sheets, fried and served in pizza-like slices–.
Day 3: Erice, Marzipan, Olive Oil and Saltpans

Today departure for Erice uptown, which was an important religious site associated with the goddess Venus. Wander through its ancient streets and visit some of the famous homemade pastry shops—world-famous for marzipan candies and other delicacies like almond and pistachio pastries. Towering over the west of Sicily at 751m above sea level and often covered in its own personal cloud, Erice is a wonderfully preserved Mediaeval town offering the most breathtaking views and a palpable sense of history. Originally an Elymian city (the Elymians were around before the Greeks ever set foot in Sicily) Erice, or Eryx as it was first called, was a town of no little importance and renown and is said to have attracted the likes Hercules and Aeneas. Like so many Sicilian towns, it passed from one invader to another as all the usual suspects came and went, leaving their architectural calling cards and their cultural footprints. The name changed from Eryx, to Erice to Gebel Hamed and Monte San Giuliano but its essential character remained, obstinately repelling any attempt to change its real identity. Amongst the most visited sites are the two castles, Pepoli Castle and Venus Castle. The former was built by the Arabs while the latter was a Norman construction with imposing towers that derived its name from the fact that it was built on the site of the ancient Temple of Venus, allegedly founded by Aeneas. Lunch in an olive oil farmhouse to taste genuine dishes and enjoy the olive oil tastings. After lunch we travel to Marsala region along the Salt Way Road. While travelling we will be fascinated by this unusual landscape: panels of mirror-like water, held by thin strips of earth and white windmills. In Summer now as then in some areas between Trapani and Marsala it is possible to admire piles of salt just harvested. Later return to Palermo.

Day 4: Countryside and Meal Experience with locals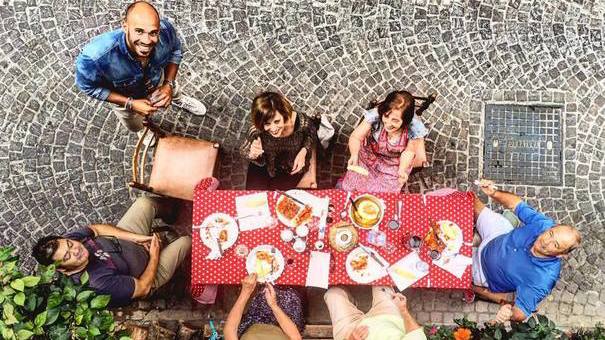 Today departure for a small village off the beaten paths to have an unforgettable experience based on the interaction with local people and observation of artisans at work, a plunge in a rural and friendly atmosphere. Especially we will meet a dairy producer to learn how milk is processed, observe cheese production and savor different types of dairy products of the highest quality and zero-foot miles food. Later we visit a bakery where the owner will show us Pizza and Bread preparation. Then we will have a nice home-cooked lunch in picnic style to enjoy local life and real gastronomy for your unforgettable Sicilian local food experience. This afternoon we then continue onto Agrigento. In the evening a short drive will take us in a small village to experience a family dinner among friends at home that will end with a nice Cubaita-Torrone Show Cooking and a journey through time.

Day 5: Agrigento, Winery and Piazza Armerina

Today we visit of the finest of all ancient Greek sites—the whole Doric Temples, one of Sicily's most famous historical attractions. This is one of the most outstanding examples of Greater Greece art and architecture, and is one of the main attractions of Sicily as well as a national monument of Italy. The area was included in the UNESCO Heritage Site list in 1997. This splendid archaeological park consists of eight temples (and various other remains) built between about 510 BC and 430 BC: the Temple of Hera, the Temple of Concordia, the Temple of Heracles, the Temple of Olympian Zeus, the Temple of Castor and Pollux, the Temple of Hephaestos, the Temple of Demeter, and the Temple of Asclepius (the God of Medicine). Then departure for the country side to visit a local winery. Snacks and wine tastings. This afternoon departure for Piazza Armerina to visit the famous Villa Romana del Casale. Built in the middle of the 4th Century AD as a hunting lodge by a Roman patrician the Villa is home to some of the best preserved and extensive examples of Roman mosaics spread over around 3500mt. This afternoon we then continue to Syracusa.

Day 6: Syracusa

Today we start the visit of Syracuse hiring a Taxi to move to the Archaeological Park, whose main highlights of which are the Greek Theatre, the Roman Amphitheatre and the Paradise Quarry. The resulting park is one of the most extraordinary heritage left us by classical antiquity and, given its degree of interest and importance, it has few equals elsewhere in Italy. Then stroll through the streets of Ortygia Island, the heart of the city center, to visit the Dome. This delightful pedestrian square is home to the wonderful Cathedral built on the site of an ancient Temple of Athena, as can clearly be seen from the original Doric columns that were incorporated into the building's main structure. Later to the colorful daily Street Market, which sells a fantastic array of fruit, vegetables, fish and meat. From here, this afternoon, wandering around the eastern limits of Syracuse you fill find a maze of streets that eventually open out at the southern extreme of the island, and the inaccessible Castello Maniace, a true bastion built by Frederick II in 1239. Later onto the Byzantine Miqwe, located at 18 meters of depth and considered the biggest and oldest Jewish ritual bath in Europe. This afternoon is at leisure.

Day 7: Noto, Ragusa Ibla and Modica

Today departure for Noto, a masterpiece of Sicilian Baroque! Most of the buildings, including churches and noble palaces, follow one another along the main street and are characterized by the honey tone of tufa stone. Facades and balconies are all skillfully decorated by grinning masks, lion heads, putti and other embellishments. Noto Cathedral is unmissable: dedicated to Saint Nicholas, it is built in perfect Sicilian Baroque style. Then onto Modica. Like the other towns in the Val di Noto, was badly damaged in the 1693 earthquake and largely rebuilt in Sicilian Baroque style. Modica is custodian of a 400 year tradition of Sicilian chocolate-making. Being part of the Spanish kingdom for so many years meant that Sicily was often one of the first recipients of the new foodstuffs being brought back from South America. Cacao was one of these and today Modica still specialises in making granulous chocolate, often flavoured with chilli pepper, cinnamon or vanilla, that is based on Aztec methods and recipes. Chocolate shops abound and, for the real chocoholic, it is sometimes possible to watch the "chocolatiers" at work. Tasting of Modica chocolate is a must.This afternoon onto Ragusa Ibla to visit one of the most fascinating towns in Sicily. Ragusa has caused many a visitor's jaw to drop as they first set eyes on the lower part of the town. Essentially Baroque, the Ragusa you will see today dates almost entirely from 1693. Indeed, it was in this year that Ragusa was razed to the ground by a terrible earthquake that hit most of the eastern side of Sicily. Public opinion on where to rebuild the town was divided, and so a compromise was made. The wealthier, more aristocratic citizens built a new town in a different site, now Ragusa "Superiore", while the other half of the population decided to rebuild on the original site, now Ragusa Ibla. While the upper part has its fair share of architectural delights, it is the smaller Ragusa Ibla down below that really draws visitors. Later onto Taormina, the world famous resort town of Sicily.
Day 8: Etna, Winery by WD4X4 Land Rover

Today meet the off-road's driver and transfer to Etna Volcano. During our first stop we will discover a unique canyon comprised of basaltic lava (the "Alcantara Gorges") and shaped by the waters of the Alcantara river. The Alcantara's vertical cliffs reach 30 meters in height and its structures have been forged by high intensity geological and geothermal events. After this stop, we will visit the historic center of Castiglione di Sicilia, a medieval village perched on a hill overlooking the Alcantara valley. The tour includes a walk to the Belvedere of the Castello di Lauria (of Norman-Swabian origin dating back to the twelfth century and built on the highest cliff of the medieval village). We will make a brief stop at the 2002 lava flow reachable by jeep through a winding dirt road surrounded by chestnut and oak forests. Continuing our excursion, we will reach the Ragabo pine forest where hidden among pines and brooms, we will discover the cave of Corruccio (1350 meters above sea level) a cave formed by flowing lava. Later, driving up along the Mareneve road we will reach Piano Provenzana (1800 meters above sea level), a ski resort, theater of the great eruption of 2002. Before coming back to Taormina, traveling through one of the wine roads of Sicily and crossing large expanses of vineyards (Etna D.O.C.), we will stop at a local winery, to enjoy a relaxing moment surrounded by nature while sampling local cuisine and excellent wines. In fact, the wines are complemented by uniquely local delicacies. Later we return to Taormina.

Day 9: Taormina, the world famous resort town of Sicily

Today is at leisure. I do recommend you an independent walk in the Corso Umberto Street, the core of the town, to explore the town. From here you can join the Greek Theatre (Admission fee: not included), built for the most part of brick, and is therefore probably of Roman date, though the plan and arrangement are in accordance with those of Greek, rather than Roman, theatres;  It is one of the world's most popular tourist attractions, so that Johann Wolfgang Goethe in his famous "Journey to Italy" wrote: "No theater audience has never had such a sight in front of him." The highlight of today walking tour is for sure go up using the old steps up to the top of the theatre to admire an amazing view of the Taormina Bay and the Etna volcano, the view from here is amazing and unforgettable.

Day 10: Arrivederci
Today departure for Catania airport and Arrivederci Sicilia!