Sicily and the Godfather Saga
The aging patriarch of an organized crime dynasty transfers control of his clandestine empire to his reluctant son.
The Godfather "Don" Vito Corleone is the head of the Corleone mafia family in New York. He is at the event of his daughter's wedding. Michael, Vito's youngest son and a decorated WW II Marine is also present at the wedding. Michael seems to be uninterested in being a part of the family business.
Vito is a powerful man, and is kind to all those who give him respect but is ruthless against those who do not.
But when a powerful and treacherous rival wants to sell drugs and needs the Don's influence for the same, Vito refuses to do it.
What follows is a clash between Vito's fading old values and the new ways which may cause Michael to do the thing he was most reluctant in doing and wage a mob war against all the other mafia families which could tear the Corleone family apart.
Popularly viewed as one of the best American films ever made, the multi-generational crime saga The Godfather is a touchstone of cinema: one of the most widely imitated, quoted, and lampooned movies of all time.
Marlon Brando and Al Pacino star as Vito Corleone and his youngest son, Michael, respectively. It is the late 1940s in New York and Corleone is, in the parlance of organized crime, a "godfather" or "don," the head of a Mafia family. Michael, a free thinker who defied his father by enlisting in the Marines to fight in World War II, has returned a captain and a war hero. Having long ago rejected the family business, Michael shows up at the wedding of his sister, Connie (Talia Shire), with his non-Italian girlfriend, Kay (Diane Keaton), who learns for the first time about the family "business."
A few months later at Christmas time, the don barely survives being shot by gunmen in the employ of a drug-trafficking rival whose request for aid from the Corleones' political connections was rejected.
After saving his father from a second assassination attempt, Michael persuades his hotheaded eldest brother, Sonny (James Caan), and family advisors Tom Hagen (Robert Duvall) and Sal Tessio (Abe Vigoda) that he should be the one to exact revenge on the men responsible. After murdering a corrupt police captain and the drug trafficker, Michael hides out in Sicily while a gang war erupts at home. Falling in love with a local girl, Michael marries her, but she is later slain by Corleone enemies in an attempt on Michael's life. Sonny is also butchered, having been betrayed by Connie's husband.
As Michael returns home and convinces Kay to marry him, his father recovers and makes peace with his rivals, realizing that another powerful don was pulling the strings behind the narcotics endeavor that began the gang warfare. Once Michael has been groomed as the new don, he leads the family to a new era of prosperity, then launches a campaign of murderous revenge against those who once tried to wipe out the Corleones, consolidating his family's power and completing his own moral downfall. Nominated for 11 Academy Awards and winning for Best Picture, Best Actor (Marlon Brando), and Best Adapted Screenplay. …. and Sicily? The Godfather Filming Locations in Sicily
Corleone is an Italian town and commune of roughly 11,158 inhabitants in Sicily. Several Mafia bosses have come from Corleone, including: Tommy Gagliano, Jack Dragna, Giuseppe Morello, Michele Navarra, Luciano Leggio, Leoluca Bagarella, Salvatore Riina and Bernardo Provenzano. It is also the birthplace of several fictional characters in Mario Puzo's novel The Godfather, including the eponymous Vito (Andolini) Corleone.
The name of the town was used as the adopted surname of the title character in Mario Puzo's book and Francis Ford Coppola's film The Godfather. In the novel, Vito Andolini emigrates from the village of Corleone. In the cinematic release of The Godfather, Part II, young Vito, shy and unable to speak English, cannot respond when asked for his proper name, and is given the last surname Corleone by an immigration official at Ellis Island.
Throughout the film series, various members of the Corleone family visit the town. In the films, the towns of Savoca and Forza d'Agrò were used as locations for those scenes set in Corleone.
NOW …. visiting Sicily is doable indulging your senses in the Saga Experience visiting the villages of Savoca and Forza d'Agrò –which are the real locations used during the saga– as a half day private tour from Taormina.
Personally I do recommend to do it in the morning and enjoy the breakfast here at the Bar Vitelli.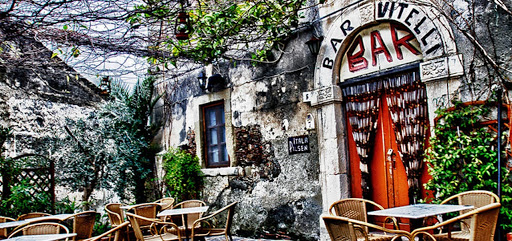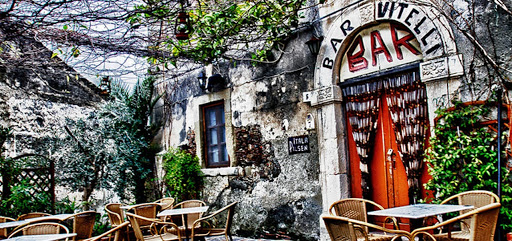 The Bar Vitelli … Savoca …. the Godfather: an invitation you cannot refuse!
When a bloody war between Italian mob families in New York broke out in the second half of the 1940s, Michael Corleone took refuge in Sicily.
One day, after hunting, he sat at a table outside Bar Vitelli.
The two 'picciotti' who are his bodyguards translate for him. He wants to know about the beautiful girl he just noticed on the road to town. One of them explains to the innkeeper, She wore a red dress, and a red ribbon in her hair. She looks more Greek than Italian. Realizing the three young men are praising his own daughter, the man cuts the conversation short and abruptly goes back inside.
A few moments later, he finds out just how important the man asking for his daughter's hand is. He is a "big shot", and is making him "an offer he can't refuse", so he agrees to a meeting according to local customs.
The scene is obviously from "The Godfather", Francis Ford Coppola's 1972 masterpiece starring Marlon Brando and Al Pacino, filmed between Italy and the United States. If you've seen the movie, you'll recognize Bar Vitelli at first glance: it is exactly the same as it was on the silver screen.
And the LOL Forced Invitation?
… you cannot visit Sicily –Taormina– and stay off these villages. You have to visit Forza d'Agrò and Savoca even if you are not a really fan of the saga. Why? Because both are villages located on the top of hills. Because both are genuine Sicilian villages. Because at the Bar Vitelli you can seat in teh same bar, same location used for the ovie tasting a really delicius Lemon-Ice-Granita. We plan several day tours from TAORMINA to visit the Godfather locations.
We usually provide it as an half day tour with English speaking local driver able to indulge you to have an unforgettable Sicilian Experience. We do provide it for a solo-traveler as well as for group of friends/family up to 7 people … but we can arrange it for a big size group as well.
Where you can read details?
Surf on https://tourofsicily.com/tour/half-day-tour-to-godfather-villages-from-taormina/
We can also customize the tour, we can move you from one point to another point of the island …. be in touch with me and I will be very pleased to work with you to design your perfect tour of Sicily. This is Valeria Gulotta and my core-business is H2H-Human to Human: In today's highly digitized marketing era we focus our attention, more than ever, implementing that "human" element can be a huge differentiator for businesses in the crowded and often impersonal on-line space.
You can join me: valeria@tourofsicily.com