The Sicily Gastronomy of the Mediterranean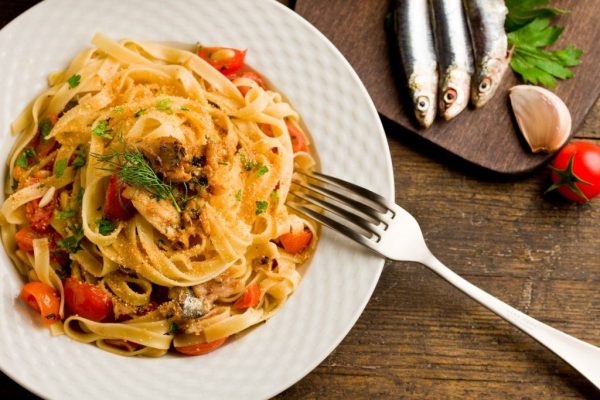 Food and Wine Grand Tour of Sicily – 10 Days
This Food and Wine Tour of Sicily is a 10 days private tour, land only with an English-speaking driver who will lead you to the discovery of Sicily's excellent food and wine while visiting the most enchanting spots of the island.
What flavour is the Mediterranean?
In the late 1950s, the American physiologist Ancel Keys conducted the famous "Seven Countries Study". It was an exhaustive study of the dietary culture of the Mediterranean. The conclusions of this project were truly surprising and created a new term, the so-called "Mediterranean diet".
It was scientifically proven beyond a doubt that the ancient gastronomic habits of Mediterranean peoples had contributed decisively to the phenomenon of greater longevity and well-being. The inhabitants of the Mediterranean region shared a secret created from the sun and the sea: the food they ate. Over the centuries a wise and efficacious diet developed, which proved beneficial for conditions such as cardiovascular disease, diabetes and many others.
The Mediterranean dietary model, which not only continues to survive but is indeed experiencing new prominence, is grounded in the gifts of the earth. Cereals, legumes, fruits, honey, and vegetables are laid out on the table on a daily basis. Excellent dairy products accompany the meal. Fish is served in a thousand different ways. Meat is consumed sparingly, as are animal fats like butter. The primary role in Mediterranean cuisine is played by pure olive oil. The entire cornucopia of flavours is matched with good wine.
You know, the importance of the Mediterranean diet in maintaining human health is so substantial that in 2010 UNESCO included the Mediterranean dietary tradition in its Representative List of the Intangible Cultural Heritage of Humanity. So we do know what the Mediterranean tastes like. It is the flavour of life itself.
"The first foundations of the home are pasta, wine and olive oil"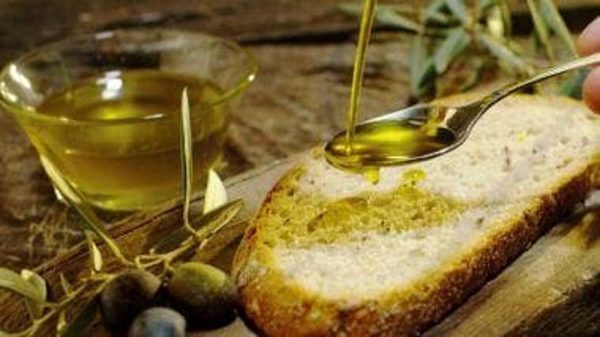 This is a widely known Sicilian expression, which is usually given as advice to newlyweds.
Within it is contained the basic philosophy of the Mediterranean culinary tradition. Then, the fact is that these four items – pasta, bread, wine and oil, have, from the dawn of time, been the cornerstones of the Mediterranean diet.
The Dionysian character of Mediterranean culture developed around the consumption of wine. The meal is a sacred ritual, a celebration.
Olive oil is the true gold of the Mediterranean earth. Its colour varies from light golden green to deep cypress green. Each region is famous for its own oil with very distinct characteristics and its own unique flavour. Olive oil has been recognized worldwide as one of the most beneficial products for the overall well-being of the human organism.
The Mediterranean – a sea of imagination
Let me say, the wonderful products of Mediterranean region can be combined to create uniquely flavourful dishes. The age-old knowledge of ingredients is often accepting of external beneficial influences.
With creative flair, the Mediterranean constantly refreshes its rich tradition. With a firm foundation and great imagination it has created a culture of sublime flavours. Ordinary people with a smile on their faces, women with a storehouse of knowledge and creative cooks of the high culinary arts are constantly enriching the colourful palette of the Mediterranean table. Under the soft Mediterranean sun an encyclopaedia of cultural flavours, colours and aromas is being constantly added to.
Sicily is the largest island in the Mediterranean, just off the 'toe' of Italy's boot. It has an inherent beauty to it—a bit rustic and rough around the edges, with hidden gems, an expansive coastline (with the Tyrrehenian Sea to the north, the Ionian Sea to the east, and the Mediterranean Sea to the south), lush volcanic soil (including some active volcanoes—Mt. Etna and Stromboli), Baroque architecture and ancient ruins.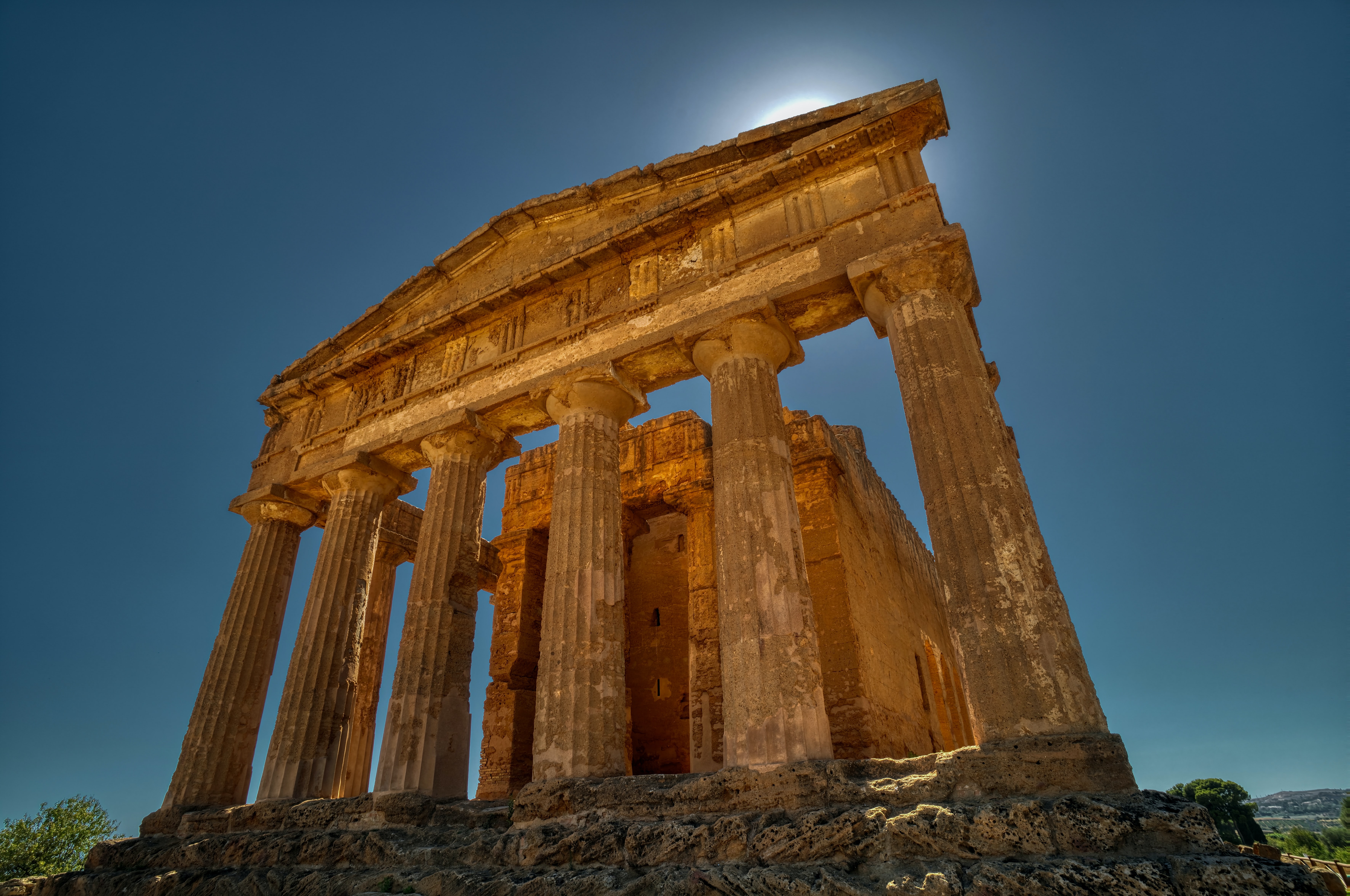 Sicily is also an island with a unique, eclectic, and rich history. Sicily was first ruled by the Phoenicians, followed by the Greeks, followed by the Romans. After the Romans came the Muslims, followed by the Normans, Muslims, Normans, Spanish, and, finally, Italians. Each occupier made an imprint on Sicilian culture and food.
Sicily has the Greeks to thank for bringing olives, grapes, honey, and fava beans. The Romans, who followed, introduced wheat and other grains. The Arabs made the most remarkable contributions, largely through advanced agricultural techniques, such as irrigation, as well as by introducing a plethora of crops such as apricots, citrus, eggplant, couscous, raisins, nuts (e.g., almonds and pistachios), rice, sugarcane, and spices (e.g.,  cinnamon, saffron and nutmeg).
You'll find the freshest fish and seafood along the coast, where hard-working fishmongers boast about their catch of the day (by the way, the fish market in Catania is an experience not to be missed.) These catches include swordfish (pesce spada), tuna (tonno), sea bass (spigola), gold bream (orata), squid (calamari), octopus (polpo), prawns (gamberi), scabbard fish (spatula), clams (vongole), mussels (cozze), sardines (sarde) and anchovies (acciughe). In the hills and mountains, you'll encounter an assortment of cheeses (formaggi), sausages (salsiccia) and mushrooms (funghi). And all across the island you'll enjoy stellar produce (largely in thanks to Sicily's rich, volcanic soil) such as tomatoes (pomodori), eggplant (melanzane), courgettes (zucchini), olives (olivi), capers (capperi), garlic (aglio), broad beans (fave), chickpeas (ceci), aromatic herbs, wine (vino) and many other varieties of fruits, vegetables, and legumes.
In Palermo, the capital of Sicily, you'll find a rich street food culture. Panelle, small, flat, fried chickpea fritters, are one of Palermo's most popular street foods, sold in friggitoria (fry shops) all over the city. Another popular Sicilian street food is arancini, small, saffron-colored rice balls stuffed with various fillings such as mozzarella or a ragu of tomato, meat and peas, then dredged in breadcrumbs and deep fried until golden brown.
You might start off a meal with a simple Sicilian orange and fennel salad called "insalata di arance".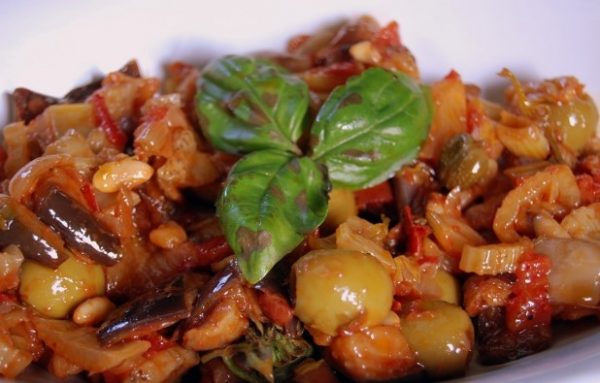 Eggplant is amongst the most popular of vegetables in Sicily and you'll find it in various preparations. Caponata is a typical antipasto that you'll encounter in every corner of Sicily; a delicious sweet and sour (agrodolce) mixture of fried eggplant, onions, celery, tomatoes, vinegar, capers, and olives, sweetened with a bit of sugar.
You'll also see various types of involtini, a small bundle or parcel consisting of some sort of outer layer (vegetables, meat, poultry, and seafood) wrapped around a filling (cheese, vegetables, cured meats, and nuts). For instance, eggplant involtini are baked eggplant rolled around dollops of ricotta cheese and bathed in marinara sauce. Swordfish involtini are stuffed with breadcrumbs, currants, garlic, parsley, and pine nuts.
Whole Grain
Pasta with Sardines
and Swiss Chard uses Sicilian flavors like capers, tomatoes, sardines, and lemon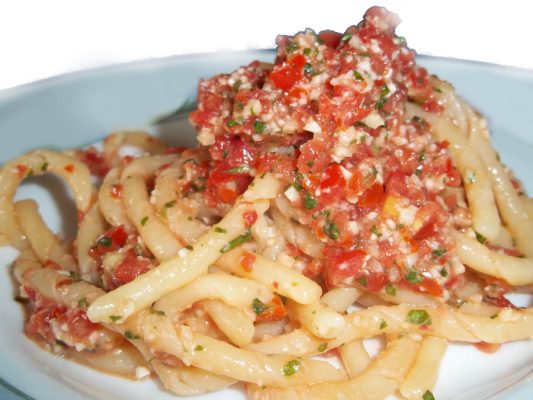 In Sicily, there is seemingly a pasta dish for each day of the year. Pasta is typically served as a primo piatto (first course). A trip to Sicily is not complete without sampling pasta con le sarde y finocchietto, or pasta with sardines and wild fennel. Pasta, typically bucatini (a spaghetti-like pasta with a hole in the middle, like a straw) is paired with a combination of salty sardines and anchovies, pine nuts, and sweet currants to yield that classic Sicilian salty-sweet flavor profile. Pasta alla Norma is another traditional pasta dish of eggplant, fresh tomatoes, garlic and basil, topped with ricotta salata. Busiate al pesto trapanese is a typical pasta from Trapani, a seaside town on Sicily's west coast. Instead of your classic basil pesto, this pesto is comprised of fresh tomatoes, almonds, garlic, and basil and usually served with busiate, a long and twisty fresh pasta from the area. Couscous alla trapanese is another typical dish of Trapani and showcases the Arab influences on the island's cuisine. The couscous is typically prepared with shrimp or mussels and a white fish such as snapper, bream, or sea bass.
If you have a bit of a sweet tooth, you'll definitely want to sample the local granita. Granita is a semi-frozen dessert made from sugar, water and various flavorings. It originated in the town of Acireale, on Sicily's eastern coast, where you can still find excellent examples of it at various cafes. Granita has a different flavor and consistency as compared to Italian ice you find in the United States. Flavors like almond, pistachio (the best pistachios come from Bronte, grown in the volcanic soil of Mount Etna) and dark chocolate have an utterly creamy consistency, despite being dairy-free.
Sicilian-inspired recipes are the perfect place to turn when looking for a hearty, flavorful meal that also happens to be filled with healthy Mediterranean ingredients. Sicilian pasta meals feature vegetables, as well as other unexpected ingredients thatthe  Dietary Guidelines recommend we eat more of, such as nuts and seafood. Even the desserts can offer a vitamin and mineral punch—watermelon granita, flavored primarily with fruit and only a few spoonfuls of sugar, is one of our favorite sweet-treats to end a meal with—simply divine!