10 Days in Sicily
3 Unique Itinerary Ideas
With ten days in Sicily there are plenty of possibilities to combine an exploration two or three of Sicily's provinces.
Personalized Trips to Sicily
for Independent Travellers
Let me introduce you the 10 day-tour which is a good way to explore the most important local highlights of Sicily. We have shown three different solutions which involve the west, the east, the south and the south-east.
Feel free to verify which is the one that fit your needs and expectations and in case you wish us to customize your tour feel free to share with us your needs.
Sicily at a glance
Benvenuti in Sicilia, an amazing outdoor museum!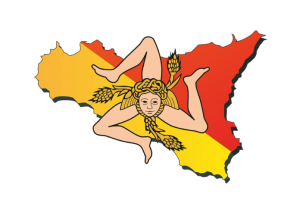 Sicily, the largest island in the Mediterranean, is a captivating blend of ancient architecture, beautiful, hidden away beaches and a bustling capital full of charisma and authentic charm.
Thanks to its geographical location, Sicily has had the major role in the historical events that have played a key role in the Mediterranean.
Sicily has an abundance of history. Some of the world's most remarkable Byzantine mosaics stand side-by-side with Greek temples and Roman amphitheaters and cathedrals. And the baroque architecture is incredible!
The not-to-be-missed cities of Sicily
Sicily is a place where natural and manmade beauty finds a perfect marriage. While your time would not be wasted visiting any of our cities, I always suggest you 
plan your itinerary
 around a few of these cities—especially if your time here is limited.
Palermo. Palermo bears witness to its past—conquered by the Phoenicians, Arabs, and Spanish, its churches and archeological remnants are unrivaled. Then the Palazzo dei Normanni and its Byzantine mosaics never fail to awe visitors; Normal Royal Palace and Palatine Chapel are divine; golden beaches of Mondello Lido, the foodie delights of the city's markets, the Botanical Gardens—all are must-see sights in Palermo.
Monreale. The city's Duomo is one of the greatest medieval treasures in the world—the 58,000 square feet of mosaics will take your breath away.
Siracusa and Ortygia Island. Archimedes, Cicero, Saint Paul, Caravaggio, and the naval hero Lord Admiral Horatio Nelson all made their presence known in Siracusa. In fact, Aeschylus premiered his plays at the still-functioning Teatro Greco here. One of the most beautiful squares in Italy, the Piazza del Duomo, is in the tiny island of Ortygia
Taormina. Perhaps there is no more famous name in Sicily than Taormina. This resort town draws the international jet set to its romantic alleys and glittering hotels. But Taormina is steeped in ancient history and mythology—Giardini-Naxos, Teatro Greco, and the Norman and Baroque monuments are all worth a visit.
Of course, Mt. Etna, Europe's highest volcano, is in Taormina, and no visit to Sicily would be complete without gazing at its stunning vistas.
Mt Etna, locally called "Mongibello", is Europe's largest and most active volcano. Its frequent eruptions are often accompanied by large lava flows, but rarely pose danger to inhabited areas. Etna is one of the volcanoes with the longest historic records of eruptions, going back more than 2000 years. Read More
Marsala. The city is more than the sweet wines which bear its name and for which the city is famous (but don't miss the historic Florio Winery and the Donnafugata Winery). You'll also want to see Marsala's salt marshes—and be sure to try busiati, the oldest handmade pasta in the world. Read More
Trapani. Ornate churches like the Cattedrale di San Lorenzo and the Torre della Colombaia define the architecture here. Don't miss shopping for the city's famous exquisite coral jewelry.
Ragusa. Ragusa Ibla is a fairytale of church domes and terracotta roofs. The Duomo di San Giorgio, the Giardino Ibleo, and the 18 listed UNESCO monuments will delight you.
Agrigento. The city's greatest draw is the Valley of the Temples and its ancient Greek ruins. Tempio della Concordia is one of the best-preserved temples in the world. You'll definitely want to visit the Museo Regionale Archeologico, perhaps the best museum in Sicily, which features the famous stone statue of Telemon (Atlas).
Catania. In a perfect world, you'd devote two full days to the art, museums, and Roman ruins of Catania. Don't miss Duomo Square, La Pescheria (the fish market), and the Bellini Gardens.
Erice. This western Sicily gem is famous for its almond biscuits (the pastry shops here are without equal). Erice's main church and bell tower are striking, as is the Norman castle, also known as Venus Castle, a tribute to the goddess of fertility.
Or what about 
Sicily's unique cuisine
—Arab and Greek spices, Spanish techniques, the world's finest seafood. And it's all accompanied by big, fruity, out-of-this-world wines.
Well, you can understand people are drawn to the island and find it so difficult to leave.
The island has been at the heart of thirteen different empires over the last three millennia, and each one of them has left its mark on the Sicilian Gastronomy.
Must-try Local Dishes and Wines
Pasta alla Norma – pasta served with a special sauce made of tomatoes and fried eggplant with ricotta cheese
Arancine – fried rice balls coated with breadcrumbs and often filled with cheese or ragù sauce
Cannoli – a tube shaped pastry that is stuffed with a sweet, creamy filling often made from ricotta cheese. Read More
Caponata – a typical antipasto that you'll encounter in every corner of Sicily; a delicious sweet and sour (agrodolce) mixture of fried eggplant, onions, celery, tomatoes, vinegar, capers, and olives, sweetened with a bit of sugar. Read More
Almond Cookies – a famous local dessert typical of Sicily. Soft and tasty, they are fast to make (and to eat…). They are also a gluten-free dessert. Read the recipe
The Chocolate in Modica – made with a very old recipe, the one coming from the Aztecs. Read More
The Predominant Grapes – Historically, Italian wine regions have clung tightly to its historical grapes, and Sicily is no different. While international varieties are prominent players, for critics, sommeliers, and importers, the wines they dream about at night are indigenous. There are three key red grapes: Nero d'Avola, Frappato and Nerello Mascalese.
Information
Travel Tips
If it is your first time to Sicily, get ready for an incredible experience!
The prospect of visiting Sicily for the first time will provoke a wide range of emotions. For some, traveling to a foreign land-especially one that doesn't speak English – is so intimidating that any real enjoyment can only be realized with the help of a native to navigate through all the unfamiliar turf. For others, even those who don't speak Italian, the opportunity to be immersed in an entirely new culture is part of the fun, and they look forward to feeling their way through each of the novelties that Italy throws at them.
Tipping
Taxis: Government-regulated taxis are either white or yellow. Avoid taxis that are not metered and have no official signs. They are private cars that will charge you an expensive fee. Unlike in the U.S. where taxis are hailed on the street, in Sicily they are found at taxi stands or are called by telephone. All charges are listed on a price chart displayed inside the cab. Extra charges are in effect at night, for luggage service and phone booking. A 10% tip is expected but not mandatory.
Restaurant tipping: Both il servizio (service charge/tip) and il coperto (cover charge for bread and water) are usually included in il conto (the bill). By Sicilian law the gratuity is included in the bill so extra tipping isn't required. However, it is customary, especially if the service is good, to leave an additional gratuity between 5% and 10%.
Hotel Tipping: Tipping in hotels is a customary practice. The service charge of 15% – 19% is already included in your bill. Other suggested tips include 50 euro cents per day to the chambermaid, 50 euro cents to the doorman for calling you a cab, and between 1 and 2 euros for the bellhop if he carries your bags to your room. The concierge expects about a 15% tip on his or her bill, as well as tips for any extra services. If you are staying at a 4- or 5-Star hotel these suggested amounts should be doubled.
Useful Knowledge:
Shopping: Italian stores generally are open from 9 a.m. to 1 p.m. The siesta/pausa lunch break lasts until 4 p.m. Stores close for the day by 8 p.m.  Most stores are closed on Sunday.
Café Culture: While enjoying an espresso at a table is always possible, the locals enjoy standing at the banco, or bar area.
Hand Gestures and Loud Voices: Unlike in the U.S. of A., hand gestures and loud voices can be a way of expressing profound happiness.
Hotel Information:
Hotels: When looking for a place to stay, remember that rates include taxes and service; the IVA (value-added tax, currently 10%) should be added to the total amount.
Electrical: Not all hotel rooms provide hairdryers; if you bring your own, an adapter/transformer is a necessity. This will also be important for all other electrical devices, including laptop computers, because in Italy the voltage is different (220). Also, outlets have two round-pronged plugs, which is another reason an adapter plug is necessary.
Just the Basics:
Sicily's Time Zone: one hour ahead of Greenwich Mean Time (GMT+1). Sicily is generally six hours ahead of Eastern Standard Time in the United States, aside from the rare instances affected by the Spring Forward/Fall Back clock-changing discrepancy when the difference is five hours.
Country Code (for international calls to Italy): +39.
Currency: Euro. Available in bills of 5, 10, 20, 50, 100, 200, and 500 euros; coins of 1 and 2 euros and 1, 2, 5, 10, 20, and 50 euro cents.
Official Language: Italian and Sicilian
Flag: The Italian tricolor is green, white, and red, in three vertical bands, equal in dimension. The Sicilian flag shows a triskeles symbol (a figure of three legs arranged in rotational symmetry), and at its centre a Gorgoneion (depiction of the head of Medusa) and a pair of wings and three wheat ears.
Religion: Roman Catholic is the main faith – 85% of native-born citizens are nominally Catholic. There are substantial Protestant, Jewish, and Muslim communities.
Education: Sicily has statewide education system, with a five-year primary stage and an eight-year secondary stage.
Currency
Like other member countries of the European Union, Sicily uses the euro, symbolized by "€". For the current conversion rate between your currency and the euro you can check a currency exchange Web site such as www.xe.com
ATM Cash Machines (bancomats) are everywhere in Sicily as they are in the United States. The Cirrus and Plus systems are the most widely available. Be aware that many Sicilian cash machines will not accept card with PIN codes, five numbers or longer so be sure to reset your PIN to a four numbers before you go. You may also have a problem accessing a savings account so be sure the ATM card(s) you are bringing are linked to checking accounts. You may also be able to use your credit card for a cash advance if it has a PIN code (fees will apply).
Many travelers wonder about bringing travelers checks with them and it simply isn't a good idea anymore. You'll pay a fee for the checks at home, will need to find a bank (banks are usually open for a few hours in the morning and a few hours in the afternoon on week days) when it is open, wait in line and pay another service fee when receiving euros.
Credit cards are widely accepted throughout Sicily. Visa and MasterCard are more commonly accepted so if you're bringing an American Express card, be sure to bring a Visa/MasterCard as well. Many credit card companies (Capitol One is an exception) are now charging a transaction fees for international purchases. Be sure to check with your credit card company before leaving home. Finally, cash is king in Sicily. Sicilian merchants hate paying service fees on credit card transactions and will often give you a discount (sconto) for paying cash. Of course, they also like to hide their earning from the tax authorities too, but that's a whole other story.
Shopkeepers are also open to giving discounts if you are buying multiple items. Don't be afraid to ask for a sconto!
City Taxes
When staying overnight in Sicily, certain cities have a tourist tax.
This Sicily City tax must be paid by the PASSENGER directly to the hotel before the end of the stay.
| | | | | |
| --- | --- | --- | --- | --- |
| City | | 5 star | 4 star | 3 star |
| Palermo | | eur 3 | eur 2 | eur 1.50 |
| Catania | | eur 2.50 | eur 1.50 | eur 1.50 |
| Taormina | | eur 5 | eur 3.50 | eur 2 |
| Syracusa | | eur 2.50 | eur 2 | eur 1.50 |
| Agrigento | | eur 3 | eur 2 | eur 2 |
| Trapani | | eur 3 | eur 2.50 | eur 2 |
| Ragusa | | eur 2.50 | eur 1.50 | eur 1 |
| Cefalù | | eur 3 | eur 2 | eur 1.50 |
| Messina | | eur 4 | eur 2 | eur 1.50 |
Internet
Wireless access is prevalent in restaurants and hotels and most hotels no longer charge for you to use WiFi.
You can access it with your phone or laptop computer.
If you choose not to bring a device with you, most hotels make a desktop computer available for guests to use or have a business center available.
Sicily airports
There are four airports in Sicily, two serving the east coast (Catania and Comiso airports) and the other two (Palermo and Trapani airports) – the west coast.
Palermo Falcone & Borsellino (PMO) and Catania Fontanarossa (CTA) are the biggest airports operating actively all the year round. Both become very busy in summer months.
Trapani Birgi (TPS) and especially Comiso Pio La Torre airport mostly serve low-cost airlines and seasonal flights.
Air, sea or land?
There are ways to get to Sicily from mainland Italy or from Malta without flying.
These include long-distance buses from other regions in central (mainly Rome) and southern Italy, trains or ferries.
However, flying to one of the Sicily airports is probably the fastest, and arguably the most convenient way to arrive at your final destination.
Busy itinerary? Fly anywhere!
If you are planning to explore the island and change your location at least two or three times it does not make much difference which airport to arrive.
You can even consider to arrive at one airport and depart from the other.
This is usually convenient and optimizes timing in case you want to move around and see more. Typically Palermo and Catania would be the preferred options.
Having a clear idea of what kind of a vacation you are planning to have, and what is your itinerary will make the choice of the airports easier. It is also possible to build an itinerary around your arrival and departure points, especially if your plans are not overwhelming.
Still, east or west – what is best?
Roughly speaking, Palermo airport is an optimal arrival point to reach destinations along the west coast between San Vito lo Capo and Cefalu. Corleone and the Madonie mountains would be on the same list, just a bit away from the coastline. Trapani airport is closer than any other one to Castellammare del Golfo, the Egadi islands including Favignana, Marsala, Erice, Segesta, Mazzara del Valo and Selinunte. The southern coast from Agrigento to Trapani itself is also within easy reach.
Catania airport serves best final destinations like Taormina, the Aeolian islands, Messina, Giardini Naxos, Acireale its coast, Etna, Siracuse and Noto, Caltanissetta. Comiso is optimal for Ragusa, Scicli, Modica and Licata, while Piazza Armerina and Caltagirone are similar travel distance from both Catania and Comiso airports. Agrigento, Tindari and Enna are equally convenient from Catania and Palermo airports with Agrigento and Tindari taking some 2 -2,5h drive. These are probably the farthest among popular locations on mainland Sicily. Agrigento is similar 2 – 2.5 h drive distance from Trapani and Comiso as well.
Visiting Sicily: days, weeks, and beyond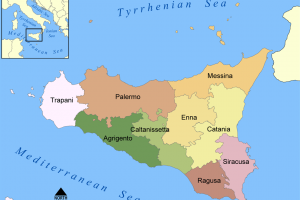 Sicily is an island and has 9 provinces (Palermo, Agrigento, Caltanissetta, Catania, Enna, Messina, Ragusa, Siracusa, Trapani), each with its own identity.
Landscapes, cuisine, and dialect differ greatly from one to the next, and each merits its own visit.
If your time is limited, you'll be able to see Sicily's highlights in a matter of days—but spending one week or more means you'll get to explore multiple provinces and fall in love with the authentic Sicily.
If you have a few days in Sicily, it's best to focus on one city, otherwise you'll likely feel like you're spreading yourself too thin!
In three or four days lodge in one city only and from here explore and enjoy the area.
The most important cities are Palermo — located on the west side — Taormina and Syracusa — both located on the east –.
In one week, you'll be able to explore Sicily's wonderful cultural cities, undoubtedly a highlight of any trip to the country. Palermo, Agrigento, Taormina and Syracusa attract the bulk of tourists and justifiably so—they harbor some of the world's most impressive architecture and works of art.
Nine days will give you more time to explore what Sicily offers beyond the usual tourist destinations. You'll be able to travel along the stunning Marsala, Erice, Ragusa, Modica and Noto, which offer some of Europe's most enchanting scenery.
However, to experience Sicily at its best, you'll need to factor in two weeks. That way, you'll have enough time to discover a large part of the island and one (or perhaps both!) of its major islands, Lipari and Vulcano.
Interesting facts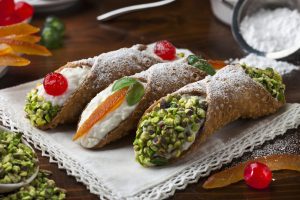 Treat yourself with the amazing Original Cannoli, a Sicilian speciality made of crispy dough and a creamy ricotta cheese filling.
A dessert now known and appreciated all over the world, a pillar of "Sicilian Culture". We can safely say that visiting Sicily without eating cannoli is like not having visited it at all.
For those who do not know it (We doubt there is someone who does not know what we are talking about) the Sicilian cannoli is a dessert consisting of a crunchy fried wafer in lard, called "scorza (rind)", filled with sheep's ricotta cream with a sprinkling of chocolate or pistachio and candied fruit at both ends.
Explore Sicily in 10 days
On this ten-day itinerary, you'll uncover layers of history in the island of Sicily. Is a sort of showcase where you can immerse your senses in the art, culture and gastronomy!
Some travelers pass through for a day or two on their way to other destinations, but ten days is an ideal amount of time to get a feel of Sicily lifestyle.
Highlights
1st day – Arrival in Palermo airport – Transfer to Palermo
2nd day – Palermo Half Day Walking Tour with Street Food tastings
3th day – Cefalù and Monreale
4th day – Wine, Salt and Olive Oil Experience (with stops in Marsala and Erice)
5th day – Palermo to Siracusa (with stops to Agrigento and Piazza Armerina)
6th day – Syracusa and Ortigia Half Day Walking Tour
7th day – Siracusa to Taormina (with stops in Ragusa and Modica) with lunch
8th day – Etna Experience WD4X4 with lunch in a Winery
9th day – Taormina at leisure
10th day – Departure from Catania airport – Transfer from Taormina
The eight-day-trip begins on the 2nd day with an Half Day Palermo with Street Food Tastings
Today we start with a walk into a lively open-air market, a place with strong Arab influences, resembling a souk, with picturesque stands of fresh fish, cheese, fruit and vegetables. During the tour you will have the opportunity to observe local people in their daily activities and to savor foods that real Sicilian people love to eat!  A small tasting of typical street food is included.
The walking tour through the ancient center of Palermo is approx. 2,5 hours and you will visit several monuments including Piazza Pretoria, and the exterior of Cathedral.
The tour will finish at the Four Corner to permit to have the afternoon at leisure to explore Palermo on your own. Read More>
Cefalù and Monreale is planned on the 3th day
Today we drive to Cefalù, a gorgeoius town located on the northern coast of Sicily and one of the major tourist attractions in the region. Built on a promontory dominated by a sheer cliff, Cefalù, still keeping its ancient print, has grown around the Cathedral wanted by Ruggero II. The Cathedral, began in 1131, is one of the most interesting medieval monuments of the island and boasts outstanding mosaics and a wonderful cloister. A large part of the town is pedestrian. Stroll through the medieval narrow street and admire the picturesque houses on the sea and the long beach of finest sand.
Time at leisure.
This afternoon we then continue to Monreale to see the Arab-Norman art and architecture reached the pinnacle of its glory with the Dome. Launched in 1174 by William II, it represents the scenes from the Old and New Testaments all in golden mosaics.
Later we return to Palermo. Read More>
Wine, Salt and Olive Oil Experience is planned for the 4th day in Sicily
Today departure for Marsala, the Arab "Marsa Allah" –Harbor of God–, is known in the whole world for one thing: Wine! The Marsala Wine comes from the western lands of Sicily and its name derives from the homonymous town. The Marsala is the oldest Italian DOC wine, with an average alcohol content of about 18 degrees.
Have a short walk in the city center of this lovely town before driving along the scenic Salt Way Road to admire the beautiful Saltpans where the sea-salt is still produced following the old Phoenician tradition preserved during the century.
Enjoy a light-lunch in a local Winery/Olive Oil producer Farmhouse including tasting of mixed local products
This afternoon departure for Erice uptown. The Elymians settled in the medieval town of Erice, which was an important religious site associated with the goddess Venus. Wander through its ancient streets and visit some of the famous homemade pastry shops—world-famous for marzipan candies and other delicacies like almond and pistachio pastries. At arrival, friendly walk along the city centre with stop at local pastry shop to taste some Sicilian local sweet.
Later we return to Palermo.   Read More>
On Day 5, From Palermo to Siracusa with stop at the Valley of the Temples and Roman Villa
Today we drive through the interior of Sicily to reach Agrigento to see the Valley of the Temples: two hours guided walking tour on the Valley of the Temples an important Unesco World Heritage site covers the Temple of Hera, the Temple of Concordia, the Temple of Hercules and the Temple of Zeus. Agrigento, according to legend, was founded by Daedalus and his son Icarus after they had fled from Crete "by air". Historically, however, its origins date back to 582 B.C. when it was founded by Rhodian-Cretan colonist from the neighboring Gela who named their city Akragas after the nearby river. It rapidly increased in size, importance and military strength under Phalarides, the first tyrant, and later under Theron, who extended his way over northern Sicily as far as Himera.
This afternoon we then continue onto Piazza Armerina to enjoy the visit of the amazing Mosaics Floor at the Roman Villa of Casale, that belongs to the Unesco Heritage. Built on the 4th century AD, the Villa was later forgotten and only in the 20th century excavations revealed the whole building. It is the supreme example of a luxury Roman villa (about 3500 square meters of floor mosaics) and was probably the residence of a member of the upper class of the Roman Empire. The mosaics discovered here are celebrated among scholars of antiquity. The visit inside the Roman Villa will be done independently. Every room has information boards. Admission fee not included
Later onto Siracusa.  Read More>
Siracusa and Ortigia – Half Day Walking Tour for Day 6
Today visit this wonderful town with a professional guide who will lead you to the discovery of the most important beauties as well as the hidden treasures of Siracusa and Ortigia Island.
Transfer by taxi the Archaeological Park that highlights the Greek Theatre, the Roman Amphitheatre and, the Paradise Quarry. After we travel back to the Island of Ortigia by taxi to start the walking tour from the Aretusa Fountain, visit the incredible Dome of Siracusa built on top of a Greek Temple and today incorporated in a beautiful baroque church!!
Continuing the walk, the tour will end at Apollo Temples to permit you to get back independently to your accommodation.
This afternoon is at leisure. Read More>
Day 7, from Siracusa to Taormina with stops in Ragusa Ibla and Modica with lunch
If you want to discover the Baroque beauty secrets, this is the tour for you! An incredible full-day dedicated to the exploration of two fascinating UNESCO heritage sites: Ragusa Ibla and Modica.
Today departure from Siracusa in direction of Ragusa Ibla. Our Team will offer you time at disposal to keep the feeling with this section of the town giving you direction to explore independently the old part of the city and an undisputed reality of Baroque art. Here you can admire numerous eighteenth-century churches and buildings and the Gardens.Soon after, you will discover another jewel of the Sicilian Baroque: Modica.
Lunch in a typical trattoria to enjoy the food specialties of this side of Sicily where a strong Spanish influence is still alive. Obviously, you will have the opportunity to taste the local chocolate made following the tradition that originated from the Aztec of central America brought in Sicily from the Spanish in the 17° century
Then we drive on to Taormina.. Read More>
Etna Experience with lunch in a winery on your 8th day 
Today meet the off-road's driver and transfer to Etna Volcano.
During our first stop we will discover a unique canyon comprised of basaltic lava (the "Alcantara Gorges") and shaped by the waters of the Alcantara river. The Alcantara's vertical cliffs reach 30 meters in height and its structures have been forged by high intensity geological and geothermal events. In prehistoric times, a river flowed here over clay sediments until a massive volcanic eruption channeled magma into the river bed forming the current canyons. After this stop, we will visit the historic center of Castiglione di Sicilia, a medieval village perched on a hill overlooking the Alcantara valley. Traveling through one of the wine roads of Sicily and crossing large expanses of vineyards (Etna D.O.C.), we will arrive at a local winery. This is the ideal place to enjoy relaxing moments surrounded by nature while sampling a lunch and excellent wines.
We will then make a brief stop at the 2002 lava flow reachable by jeep through a winding dirt road surrounded by chestnut and oak forests. The 2002 eruption lasted from October 27th to January 29th 2003 and it is considered one of the most explosive eruptions of the past one hundred years.
Continuing our excursion we will reach the Ragabo pine forest where hidden among pines and brooms, we will discover the cave of Corruccio (1350 meters above sea level) a cave formed by flowing lava.
Later, driving up along the Mareneve road we will reach Piano Provenzana (1800 meters above sea level), a ski resort, theater of the great eruption of 2002. After a short walk to visit the ruins of the hotel Le Betulle destroyed by a molten lava flow. Read More>
Taormina at leisure on your last day in the island of Sicily
Today is at leisure for your 
independent
 walk in the 
Corso Umberto Street
, the core of the town. From here you can join the 
Greek  Roman Theatre
, built for the most part of brick, and is therefore probably of Roman date, though the plan and arrangement are in accordance with those of Greek, rather than Roman, theatres;  It is one of the world's most popular tourist attractions, so that Johann Wolfgang 
Goethe
 in his famous "Journey to Italy" wrote: "
No theater audience has never had such a sight in front of him
."
 The 
highlight of today walking tour is for sure go up using the old steps up to the top of the theatre to admire an amazing view of the Taormina Bay and the Etna volcano, the view from here is amazing and unforgettable. 
Read More>
Explore Sicily in 10 days
On this ten-day itinerary, you'll uncover layers of history in the island of Sicily. Is a sort of showcase where you can immerse your senses in the art, culture and gastronomy!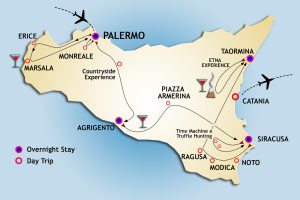 Sicily is the largest island in the Mediterranean, just off the 'toe' of Italy's boot. It's also an island with a unique, eclectic, and rich history: Sicily was first ruled by the Phoenicians, followed by the Greeks, followed by the Romans. After the Romans came the Muslims, followed by the Normans, Muslims, Spanish, and finally, Italians. Each of them made an indelible imprint on Sicilian Culture, Gastronomy, Wine and Olive Oil. Sicily represents the set of all the Mediterranean culinary traditions concentrated in a single small and amazing island! 
Some travelers pass through for a day or two on their way to other destinations, but ten days is an ideal amount of time to get a feel of Sicily lifestyle.
Day
Day 1
Day 2
Day 3
Day 4
Day 5
Day 6
Day 7
Day 8
Day 9
Day 10
Highlights
Arrival in Palermo
Monreale and Palermo Street Food
Marsala Winery and Erice
Cooking Class and Meal Experience
Agrigento, Winery and Olive Oil
Syracusa Highlights
Relax in Syracusa
Modica Aztec Chocolate and Ragusa
Etna Volcano and Winery
Goodbye Taormina!
Overnight
Palermo
Palermo
Palermo
Agrigento
Syracusa
Syracusa
Syracusa
Taormina
Taormina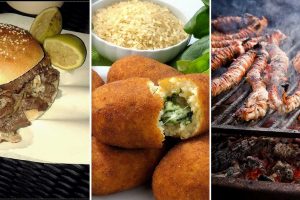 The ten day tour begins on the second day: we reach Monreale in order to visit the Dome, a wonderful example of the Arab-Norman art and architecture. Founded in 1174 by William II, the Dome represents scenes from the Old and New Testaments all in golden mosaics. Later drive back to Palermo by taxi to start our Street Food Walking Tour! A recent ranking, compiled by the American network Virtual Tourist, placed Palermo in 5th place among the best producers of "street food" in the world. To survive your street food experience in Palermo you need: very-very light breakfasts, no-diet-no-calories restrictions today, comfy shoes, a couple of sentences or gestures in Sicilian language and a veteran belly. Learn More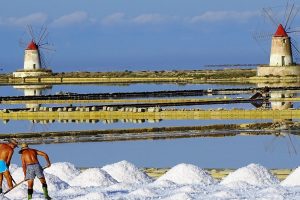 The third day we travel to Marsala region along the Salt Way Road. While travelling we will be fascinated by this unusual landscape: panels of mirror-like water, held by thin strips of earth and white windmills. In Summer now as then in some areas between Trapani and Marsala it is possible to admire piles of salt just harvested. We then visit the Florio Winery This afternoon departure for Erice, a wonderfully preserved Mediaeval town offering the most breathtaking views and a palpable sense of history. Wander through its ancient streets and visit some of the famous homemade pastry shops world-famous for marzipan candies and other delicacies like almond and pistachio pastries. Learn More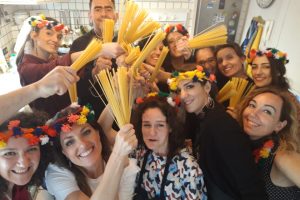 On the fourth day departure for a small village off the beaten paths to have an amazing experience based on the interaction with local people and observation of artisans at work, a plunge in a rural and friendly atmosphere. Upon arrival we meet the country-chef, wash our hands and, we will dip them in the soft flour to prepare the dough for the homemade pasta. At the end of this fun experience Tutti-a-Tavola (everyone seat at table) to taste what we have cooked. Buon Appetito! During the aternoon wer then continue our tour to Agrigento. Learn More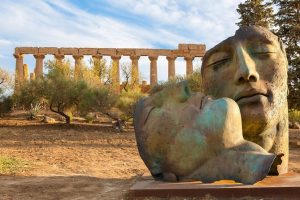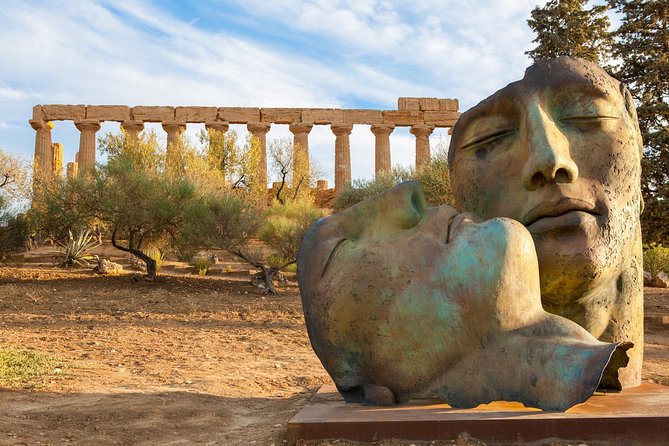 On the fifth day we will enjoy a guided visit of the finest of all ancient Greek sites, the whole Doric Temples, one of Sicily's most famous historical attractions. This is one of the most outstanding examples of Greater Greece art and architecture, and is one of the main attractions of Sicily as well as a national monument of Italy. The area was included in the UNESCO Heritage Site list in 1997. Then we drive to a Winery and Olive Oil Farm where we stop for a visit, wine, olive oil tastings and a delicious light lunch. This afternoon we then continue onto Syracusa. Learn More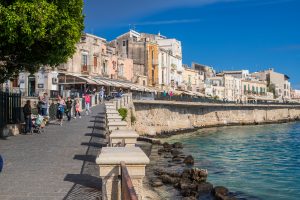 The sixth day begins with a visit to the Archaeological Park, whose main highlights of which are the Greek Theatre, the Roman Amphitheatre and the Paradise Quarry. Then stroll through the streets of Ortygia Island, the heart of the city center, to visit the Dome. This delightful pedestrian square is home to the wonderful Cathedral built on the site of an ancient Temple of Athena, as can clearly be seen from the original Doric columns that were incorporated into the building's main structure. Later to the colorful daily Street Market, which sells a fantastic array of fruit, vegetables, fish and meat. Learn More
The seventh day is to rest or we do recommend two different OPTIONAL day tours.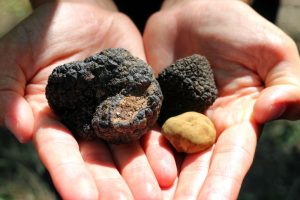 Truffle Hunting Experience, Lunch and Time Machine>
The Truffle Hunting Tour is a unique and extraordinary adventure where you can be immersed in the traditions and culture of Sicily, which for many travelers has been an unforgettable experience. Learn More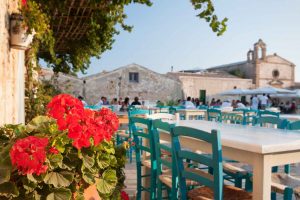 Cheese, Wine and Tuna Fishing Experience>
A full day experience with the visit of an authentic Sicilian farm, cheese tasting, traditional food tasting – olive oil, cheese, sun dried tomatoes – and a typical Sicilian lunch, followed by the visit of a local winery and wine tasting, ended by a sunset walk in an amazing fishermen village. Learn More
On the eighth day departure for Modica. Magnificent churches, with their inspiring domes, bell towers and intricate facades, punctuate the red-tiled roofs and one is struck by the uniform beauty of the whole. Modica is also famous because it is the custodian of a 400-year tradition of Sicilian chocolate-making. Today Modica is still specialized in making grainy chocolate, often flavored with chilli-pepper, cinnamon or vanilla, based on Aztec methods and recipes. Chocolate shops abound, and for the real chocoholic, it is sometimes possible to watch the "chocolatiers" at work. Later onto Ragusa Ibla to visit one of the most fascinating towns in Sicily. Ragusa has caused many a visitor's jaw to drop as they first set eyes on the lower part of the town. Later we then continue onto Taormina, the world famous resort town of Sicily. Learn More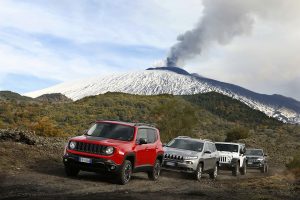 On the nineth day meet the off-road's driver and transfer to Etna Volcano. During our first stop we will discover a unique canyon comprised of basaltic lava (the "Alcantara Gorges") and shaped by the waters of the Alcantara river. Traveling through one of the wine roads of Sicily and crossing large expanses of vineyards (Etna D.O.C.), we will arrive at a local winery. This is the ideal place to enjoy relaxing moments surrounded by nature while sampling a lunch and excellent wines. Before coming back to Taormina, traveling through one of the wine roads of Sicily and crossing large expanses of vineyards (Etna D.O.C.). Later we return to Taormina. Learn More
TOP 4 Private Tours
Agrigento, Erice, Etna, Marsala, Modica, Monreale, Palermo, Ragusa, Siracusa, Taormina, Turkish Steps - Realmonte

Gold Tour - Private Tour of Sicily: an amazing way to visit the island of Sicily in 9 days.

Multidays

Private Tour up to 6 people

All Year